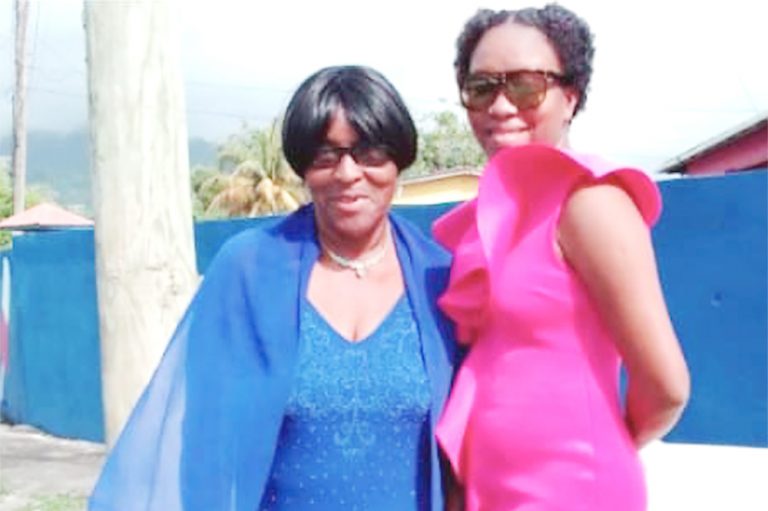 Heart patient prays that volcano never erupts again
Clotilda Hoyte is praying that La Soufriere volcano has gone to sleep permanently now, after a series of frightening eruptions that began on April 9, 2021.
Hoyte, who suffers from heart problems is a resident of Point Village a small community sandwiched between Sandy Bay and Owia in the North Windward constituency.
She said although she was not in Point when the first explosive eruption took place on April 9 last year, she saw the plumes of ash in the sky from where she was in South Leeward.
"That thing almost gave me another heart attack, it was so scary, just to look at.
"We heard the explosion too, although we were in South Leeward."
"I pray that La Soufriere has gone back to sleep and will never wake up again.
"Never, ever do I want to experience something so terrible again," Hoyte stressed.
The 66-year-old woman who has survived two previous heart attacks is now trying to pick up the pieces after the experiences of April 2021.
Hoyte recalled that she evacuated from her home on April 8 last year, one day ahead of the first violent eruptions.
"Knowing my heart condition, I did not take any chances so I moved at the first opportunity; my husband, Winston Hoyte Stayed behind," she related to SEARCHLIGHT.
"I left with my daughter and her husband, and we went to Pembroke.
"We did not take many things because we thought we were just going to overnight or something."
But by the next day, Hoyte's husband also had to flee from their home as the explosive eruptions began.
When she moved in April, she had no idea that she would not be returning to her three bedroom concrete house in Point Village.
The ash from the eruptions caused the centre of the house roof to cave in, and the constant earthquakes resulted in many large and dangerous cracks in the walls of the house.
"They told us that the house will have to build back from scratch," Hoyte said.
She and her family returned to Owia last October, but are living at the home of another relative.
The mother of three said based on what she saw and heard about the volcanic eruptions last April, people are lucky to be alive.
"Especially people who stayed back in the village and refused to move," Hoyte stressed.
Since moving back to Point, Hoyte said that "life has been rough."
"It has not been the same at all."
Her husband earned a living by farming, and all their crops were destroyed, "yam, plantain, peanuts, everything was covered in ash."
"We also had animals that we used to sell, but after the eruptions, people thief out all," Hoyte said sadly.
With their forms of livelihood gone, the ailing woman said it is a struggle to make ends meet.
Hoyte, who also witnessed the 1979 eruption of La Soufriere said the eruptions last year were far worse.
"I was also in Point when the volcano blew in 1979."
"They moved us to Biabou, but it was nothing compared to what happened last year," the Point villager recalled.
While her family suffered no major damage or loss, Owia villager, Bethel Baptiste was also traumatised by the volcanic eruptions of April 2021.
Responding to reports about instruments at one of the volcano monitoring stations being vandalised, Baptiste said this should not be.
"When you vandalise and destroy the equipment, you are putting people's lives at risk."
Baptiste told SEARCHLIGHT, that she moved out of her home before the evacuation order was given last year.
"I moved because of the heavy rumblings and the house was shaking because of frequent earthquakes."
The Owia resident said she had to move ahead of time because of an elderly relative and another relative who is visually impaired.
On the Monday before the first explosion Baptiste moved her family to Campden Park.
"Only a brother stayed home in Owia," she recalled.
"We were staying at a private home in Campden Park and I saw the plumes from the first explosion from where we were."
The sight of ash rising thousands of feet above the ground brought on a "very frightening" feeling.
When she made a call to her brother in Owia later on April 9, he told her that the place was in darkness and rocks and stones were falling.
Baptiste remembers returning to Owia sometime after the eruptions and the village "was like a deserted place then."
Baptiste and her family returned to their home in Owia permanently in November last year but confessed: "I am still afraid of that volcano."