Posted on
Medical students volunteer at VSPCA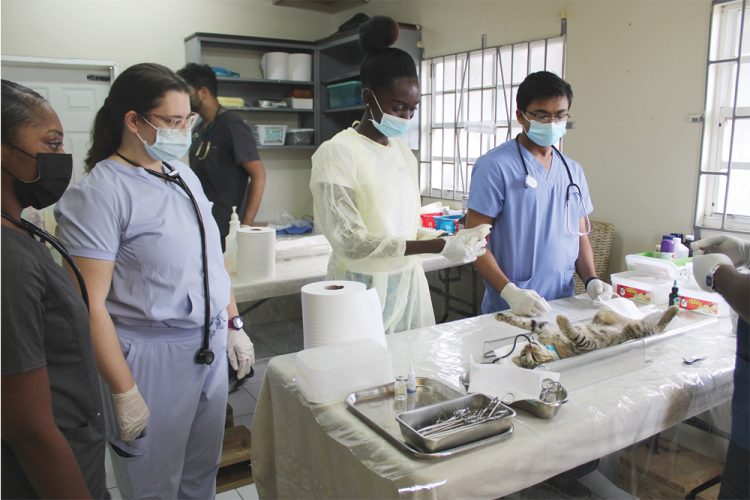 A recently formed group of students from St James School of Medicine has been offering their time and energy to volunteer at the bimonthly spay and neuter clinics organised by the Vincentian Society for Prevention of Cruelty to Animals (VSPCA).
On Saturday November 27, around 11 medical students hopped on the bus they organised especially for the venture and travelled to the VSPCA headquarters at Arnos Vale where they provided support to VSPCA staff, and veterinarians Dwayne Pype and Amelia Jack from the Ministry of Agriculture who were performing the spay and neuter surgeries.
The clinics, which the students have been attending since October are integral to the VSPCA's goal to reduce the population of stray and neglected animals in the country.
Owners of about 25 cats and dogs registered their pets for last Saturday's clinic, and when the feline and canine traffic started there was something for all hands to do, and all stethoscopes were in use.
However, Danielle Alvarez, a medical student from Houston, Texas, USA, founder of the interest group "Paws in Paradise" at the St James School of Medicine was able to step away for a few minutes to speak with SEARCHLIGHT.
"When I first landed here on the island I knew I wanted to use my previous veterinary experience somehow, and it just so happened that the first week I landed here I saw that a lot of the dogs were not spayed and neutered," Alvarez, who has experience as a veterinary technician recounted. She believed she could partner with a clinic or SPCA but didn't know that they had one here until she met Jhanice Nelson, Community Outreach Co-ordinator for the VSPCA, at a supermarket.
"She asked if we were students and she said I would love to have some students come and help," Alvarez remembered, "and I said well you're talking to the right person, I would love to use my knowledge and experience."
From there started "Paws in Paradise".
"It's officially an interest group, so now I can bring about 10 to 15 medical students with me every two weeks to come and learn how to take vitals, how to use their stethoscope, how to point out different anatomical structures…"
The group is 40 strong now, and the sign up list for the clinics, which are on a first come first serve basis, is said to fill up fast.
"We have some really exciting stuff coming up," she informed SEARCHLIGHT, as they plan to visit the red zone on December 4 to feed animals and assess the situation regarding the needs of the people there as well as the animals.
Volunteers are essential to the VSPCA, a non-profit organisation, and Alvarez is willing to pass on the knowledge she has from 15 years of administering anaesthesia and handling trauma to others.
"…There is a girl who is 14 years old and she is in High School here and she wants to be a veterinarian herself so I'm actually bringing her and another girl, who is 18, to another clinic day so they're gonna just be like my buddies that day, and I'm gonna try and teach them everything that I possibly can so that they can go into college and into Vet School with a little bit more knowledge," she disclosed.
Tabitha Lewis, a Canadian medical student, also took a break from taking vitals to answer some questions disclosed that she volunteered because she thought it was the perfect opportunity to make an impact as it concerns the situation with animals in St Vincent and the Grenadines(SVG).
She said that day: "we did some assessments on some puppies this morning, taking heart rates, temperatures and doing full exams and then this morning in here, in surgery, we've been observing and then also taking their heart rates and checking their vitals throughout the surgery, so we can actually see a difference from when they were first sedated all the way through the recovery."
Coordinator, Nelson said she was very grateful to the team of students whose "commitment and dedication has really benefited the VSPCA, and I'm hoping that this can become a partnership so when a new batch of students comes somebody else would take over from Danielle and continue to be a part of the VSPCA."
Nelson recalled that after her first discussion with Alvarez she "just jumped right in and they came and they've never stopped coming."
She said she is hopeful that because of Alvarez's knowledge of working in an environment with animals, "she can be an asset to the VSPCA in terms of teaching us."
When asked, Nelson also disclosed that they are desperately in need of volunteers as they have only one full time and one part time staff.
She explained, "they can come, even one day a week is fine even they can come for like two, three hours, it's not mandatory to be full time here, they can come whenever it's available to them."
Dr Pype and Dr Jack, who both studied in Cuba, have been volunteering with the VSPCA since 2015/2016 on their off-days.
Pype, who has been a veterinarian for 10 years said that the medical students are enthusiastic and it has been a great experience.
For those wondering whether to volunteer, he encouraged, "come down and volunteer, it's a nice thing. Animals really ease your stress. You come down, you volunteer, you get to meet new people, and meet a bunch of people from the school of medicine, you get to learn new things, sometimes they ask you questions that make you think, you see things in a different light, you see a different perspective, you have a different approach to certain things, a different approach to people. It opens you up to a lot of different things."
Dr Jack concluded that the work which the VSPCA is doing is really beneficial to the country.
"It's an expensive venture so the fact that they are willing to get the funding and to reduce the amount of stray dogs and cats in the island, that's what motivated me to want to volunteer, to offer my service, to contribute at least as a local person, being able to contribute also to the work that they're doing."
In terms of whether she would encourage others to volunteer as well, the doctor responded, "of course, it doesn't necessarily just have to be vets, there are other areas that the VSPCA can use volunteers like organisation- cleaning up, getting everything organised before the surgery day. People to assist to move the dogs, aid dogs, give them medication, any sort of assistance like that would be greatly appreciated."
The VSPCA: (vincentian_spca); and Paws in Paradise: (paws_in_paradise_mdstudents), can be found on social media platforms.