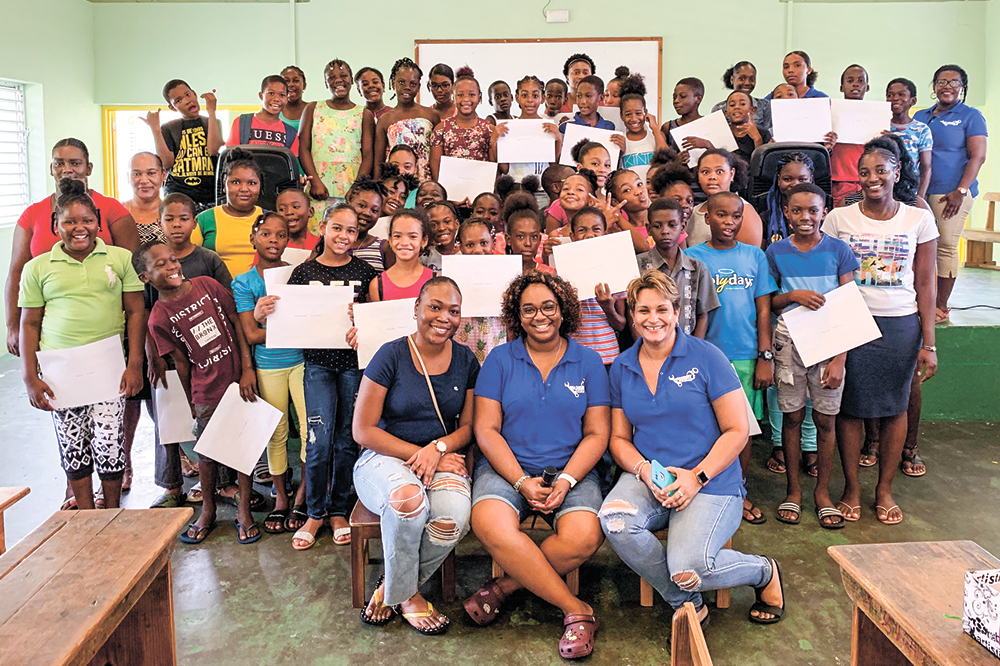 Front Page
December 20, 2019
Aerospace Engineering student holds two-day workshop
A Vincentian pursuing a degree in Aerospace Engineering has decided to give back to her community by ensuring that students in rural areas have as much exposure as possible to STEM activities.
Kaela Barrett held her first two-day workshop this week, "Full STEAM ahead" for Grade 5 and 6 students of the Georgetown Government School — the primary school she also attended as a young girl.
STEM is the acronym for science, technology, engineering and mathematics, while STEAM means science, technology, engineering, arts and mathematics.
Barrett, who received one of this country's national scholarships in 2015 told SEARCHLIGHT on Wednesday that she volunteered at elementary schools in the United States for STEM activities with the Society of Women Engineers.
And this was the starting point for wanting to host small workshops for students in rural communities here.
"I started at Georgetown Government School seeing that I was once a student at Georgetown Government School. So my starting point is really just small, short workshops with different activities relating to STEM to get students exposed to different areas in STEM and my vision going forward is to sort of expand to different age groups to older students of early forms, maybe forms one to three and Grades 5 to 6," she said.
Almost 50 students attended Barrett's first workshop on December 16 and 17. Barrett also worked along with 7 volunteers including the principal and teacher of the school during the workshop.
The aerospace engineering student at Embry Riddle University in Florida, whose focus is on aeronautics, said that she had the idea for her workshop since 2018. She said she contacted the principal of the school earlier this year and once the principal approved, she began putting her idea into action.
"I had to coordinate a lot while I was still away studying in school, so I still had all of my course work and exams but my mom and my aunt did most of the groundwork for me in getting supplies, getting everything in order while I was away and of course, I stayed in contact with school to organise everything while I was absent," Barrett told SEARCHLIGHT.
She said it is not meant to be a teaching programme as it mainly focuses on fun activities that can get students excited about the different areas in STEAM.
And Barrett added that she wanted to include the art component because it is just as important to complement the other components of science, technology, engineering and mathematics.
On the first day of the workshop, Barrett introduced students to rockets.
"They learned basic systems and parts of the rocket, and how to get rocket out of space, basic theory and afterwards, they got to make their own paper rockets and launch them out in the school yard using empty bottles and a PVC connection," she explained.
And on the second day, students explored earthquakes and how structural engineers design buildings to withstand the natural disaster.
"They learned about what causes earthquakes and how the building structure is designed to withstand it and the activity afterwards featured them making a mini earthquake simulator with a shoe box and marbles and they had the challenge of designing their own structure using toothpicks and marshmallows to design their own structure, as tall as possible and as wide as possible to withstand their little earthquake simulation so they got to be creative that day and come up with different designs," she said.
The workshop ran from 9am to 12pm each day and was free for all students that attrended.
"My goal is to have these opportunities for all students. No one should be able to miss out on opportunities like this because they can't afford it or parents can't afford it," she said.
She received sponsorship to execute her project from the Mustique Company Ltd, Jamar General Services Ltd and Flotus Ultra.
Barrett, who will take up a full time position at Gulfstream Aerospace Corporation once she graduates in May 2020, told SEARCHLGHT that it could be challenging to have the workshop often as she is no longer based in St Vincent.
But she is committing to have it at least every two years.
"My main thing is, I believe that every child should be exposed to different STEM areas and I often see that students who attend rural school are often neglected particularly when it comes to them so my primary goal is rural areas and really just expose students to the wide world of things.It shouldn't matter if someone is rich or poor or people are 'bright' in school. Everyone should have the same access to STEM to really get to shine," she said.