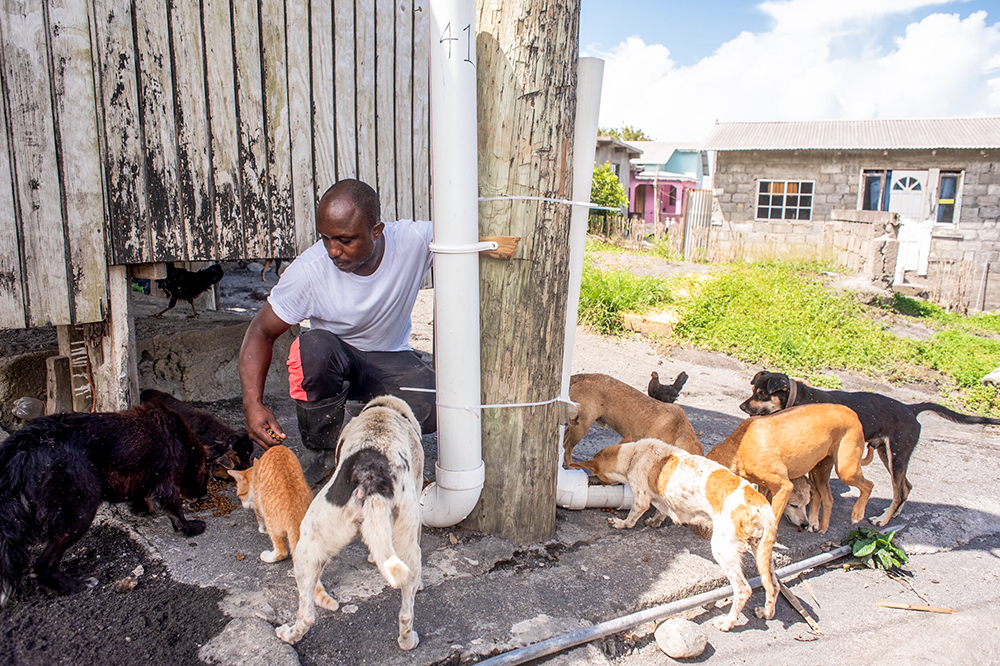 VSPCA under strain to continue feeding animals in red zone
By Katherine Renton
It's been nearly four months since the explosive eruptions at La Soufrière began, and it's been four months as well since the Vincentian Society for the Prevention of Cruelty to Animals (VSPCA) has been working to stave off starvation and dehydration of animals in the volcano red zone.
However, as it is a non-profit which works on funding and donations, the organisation said continuation of the work is challenging.
Kenvel 'Kenneth' Samuel is the main worker on the ground who is responsible for feeding the dogs and cats, and also sometimes even pigs, in communities in the red zone.
Speaking on a visit to Fancy on July 17, he explained, "…When we found the dogs, the dogs were in very, very bad condition. They were hungry, starving, and they were hunting livestock for a way of survival."
Every Tuesday and Saturday the VSPCA stocks up with approximately 20 bags or more, of dried food for dogs and cats, a large amount of cooked food, and numerous bottles of water, to make the trip past the Rabacca Dry River. On Mondays and Fridays, they journey to North Leeward.
Samuel explained that he may make up to 20 stops at the different feeding stations which have been set up in certain areas, made from pipe, and fashioned so that the dry food refills when the dogs eat feed from the base in mainly re-usable metal bowls. The operation takes hours, but the food may only last up to two days.
When the vehicle stops, and Samuel calls out, the animals, which are expecting him, appear as though from out of nowhere, many of them having little more than skin over their prominent ribs.
Although some stops have two feeding stations, the dogs out of hunger, growl and snap for possession of the nourishment.
In some cases, individual bowls with cooked food are provided, but even with this there is competition. At Magum, a particularly resourceful canine with his ribs showing could be observed picking up his disposable bowl and running away with it in his mouth to hide from the other canines.
Dieron 'Shortman' Baptiste who is from that village spoke about the importance of having these dogs fed "in order to avoid the killing of the other animals like the fowl and the sheep and the goats."
He said that there used to be a lot of chickens in the area, but the numbers have dwindled and they encounter their feathers in certain areas.
Owners of livestock have complained that their smaller ruminants- sheep and goats- have fallen victims to marauding packs of hungry dogs.
Home owners who have ventured back to places like Sandy Bay despite the difficulties of having no water, electricity nor food, approach Samuel asking for food to give to their dogs and cats, or other animals which they are looking after.
A man in Pepper Village explained that he is taking care of four cats and two dogs whose owners are still in shelters. He revealed that he knows of some animals that have died from poison, which he speculated was administered because they were killing livestock.
With no fewer than seven dogs and cats eating around his feet and beside him, he felt that they should also be taken care of, "because just like humans they have life."
Further North, and closer to Fancy, the necessity of the operation is further highlighted as the majority of persons are yet to return to their houses. Hungry pigs compete with the dogs for dry food, and even compete with each other. Adult pigs could be observed using their snout to body throw young piglets away from the food. A few were also seen unearthing the crops in the area.
The feeding stations furthest North were found demolished, with eager pigs being the number one suspects.
The situation in these areas remains volatile because the path to get there is still being affected by lahars. Although state efforts at clearing and restoration are underway, it is not known for how long the circumstances will continue to be difficult for all involved.
"We are cognisant that we cannot support in this capacity forever," Kiersten Anderson, co-founder and president of the VSPCA commented on July 21 on the matter of funding, "but I also understand that, per Kenneth (their main field worker), companion animals in and north of Orange Hill seem to be majority dependent on the VSPCA and others who are making trips up to feed animals specifically."
"…We fortunately received donations from our GoFundMe account and have been using those disaster relief funds specifically for our fieldwork," Anderson noted.
"Food is of course the biggest expense," but there other costs including maintenance, as the vehicle they use to venture into the red zone experiences a lot or wear-and-tear due to the rough terrain.
"Working as a non-profit, resources are always a struggle. We were not equipped or set up to do full-blown disaster response, but have adapted and shifted and are very grateful to domestic and international support," the VSPCA president added "but we need the Vincentian community, the public and private sector, to understand the extent of our work and that it should not be up to a small charitable organisation to carry this weight."
She added: "We have many animals and people relying upon us so we are doing our best to not let them down and fortunately, have not skipped a beat. But we are also realistic that we cannot sustain this level indefinitely.