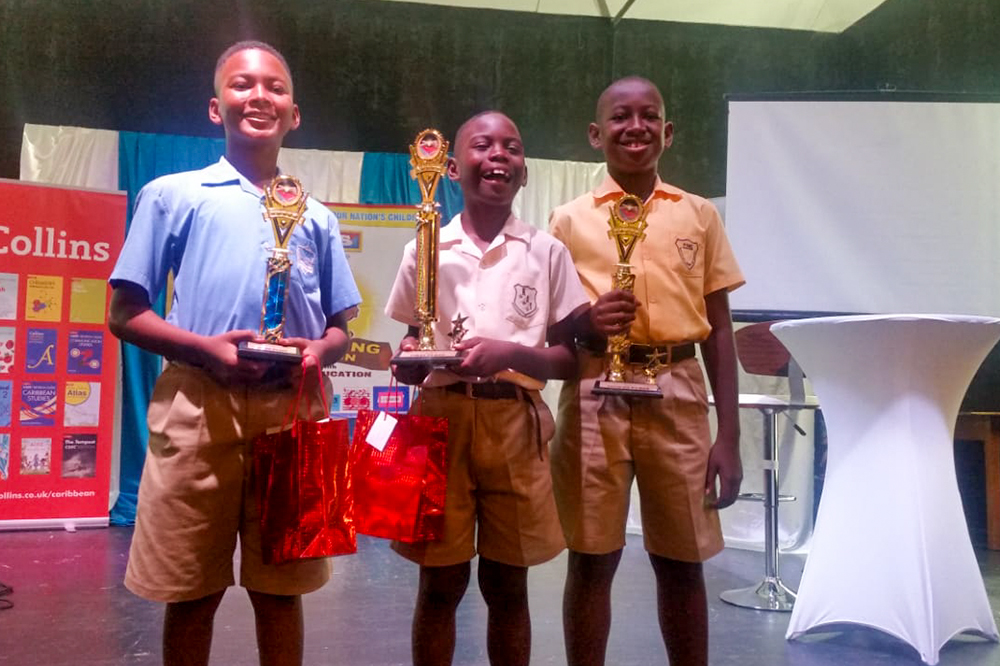 Boys on top in Courts OECS reading competition
The three boys who competed in the finals of the local leg of the Courts OECS Reading Competition this year were able to read their way into the top three positions of the competition.
The local competition took place on Tuesday, with seven competitors from various primary schools across the island. The finalists competed in two rounds of competition: reading of a narrative and a news item.
And out of the seven finalists, it was Raychad Arrindel of the Kingstown Anglican School who landed into the first position.
"I do feel good but I also feel bad at the same time because, you see, two of my friends were in the competition and none of them placed and I came first," the Grade five student told SEARCHLIGHT one day after his win.
Arrindel, thinking about his friends, said that although they may have made mistakes, they are still good readers.
He said that he is still happy that he won as he practised his reading a lot in preparation for the competition.
The fifth grader said that he feels good about reading as it exposes him to lots of adventure and helps him to deal with problems.
Arrindel said is looking forward to representing St Vincent and the Grenadines in the regional round of the competition.
He has only one request; "Could I invite some people with me?"
Charlene Azore, Arrindel's mother said that she was not surprised by her son's performance because they had already had a conversation where he told her that he was going to win.
"I worked a little bit with him but because he is into books and reading, we didn't have much to do in terms of his reading," she said. "He listened to his teachers because coming out of the preliminaries, there were some things that he needed to work on…so he actually paid attention, he listened and …he delivered."
Azore, who is a teacher at the School for Children with Special Needs, said that she is still smiling and feels extremely proud of her son.
And she encouraged parents, guardians and caregivers to nurture reading in their children as she believes that it opens the door to life.
For his achievement, Archibald received EC$1500, a trophy from OSV, a Kindle HD Fire and a one-year e-subscription from Searchlight, a gift certificate from LG Sales, books from Jujube, a prize from Medix Pharmacy and an opportunity to read a news segment on SVGTV.
Second place went to Jhamari Henry of the Lowmans Leeward Anglican School and he received EC$750, a trophy from OSV, a gift certificate from LG Sales, a prize from Medix Pharmacy and an opportunity to read news on NBC Radio.
Isaiah Toney of the Georgetown Government School placed third. He received EC$500, a trophy from OSV, a gift certificate from LG Sales, a prize from Medix Pharmacy and an opportunity to read news on WE FM.
Final remarks from the judges noted that all students did well in the competition. Teachers were also encouraged to incorporate news items into the reading curriculum so that students gain more exposure there.
The other finalists were Kayleigh Davis of the St Mary's Roman Catholic School, Selah Gonsalves of the Sugar Mill Academy, Ariella Spencer of the Leeward District Seventh Day Adventist Primary School and JDira Regis of the Mary Hutchinson Primary School.