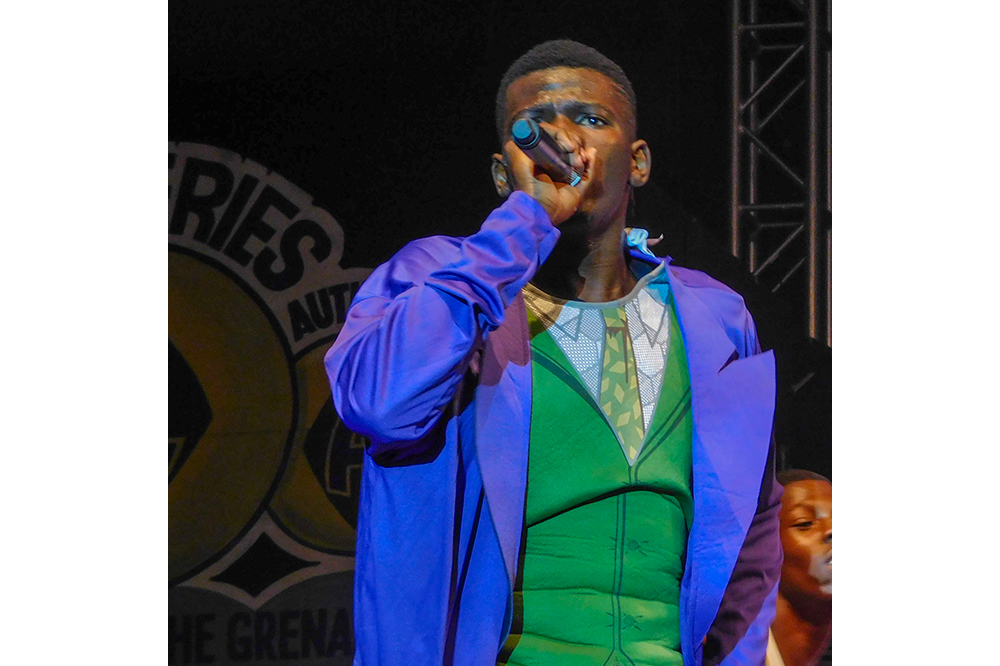 This feeling, it feel greater than great – Magikal
One year ago, Derron "Magikal" Rouse left Victoria Park with every intention of being a finalist in the 2019 Soca Monarch Competition.
Last Saturday, the 21-year-old left Victoria Park once again, this time as the reigning Soca Monarch.
When the results were announced, it was revealed that Rouse managed to score 425 points with the performance of his hit song, 'Bloody Hell Crazy'.
The newcomer was able to dethrone veteran soca artiste and 10-time soca monarch, Delroy "Fireman" Hooper, who fell seven points behind and into second place with his song, 'Shake it Down'.
"This feeling, no-one in the world can explain how I feel. This feeling, it feel greater than great. It feel greater than extra, extra great. This is something that I all time want and plan and practice for over the years. This song basically took me a year to write, produce, everything," Rouse told the media minutes after being crowned as this year's Soca Monarch.
When the MC introduced the performer, there was a short moment of silence before fires blazed from the centre of the crowd and chants of "move it, move it, move it" could be heard loudly through the speakers.
The crowd parted slightly as Magikal, dressed in a purple suit and mask, depicting the comic book character of The Joker, was carried on a wooden throne and over the barricade before being lifted onto stage where he began his high-energy performance.
The 'Bloody Hell Crazy' singer revealed that the beginning of his presentation did not go as planned as he had a video that preceded him making his way through the crowd, but the audio failed.
However, he noted that lots of effort went into creating the concept of what patrons saw last Saturday night.
"Basically is me. I literally think it and said this is what I want to do. I think out of the box for my presentation," Rouse said. "My presentation coming from the back had to do with what was happening on the screen, but you didn't get to hear it but so said, so done, it worked out for me and I'm very happy."
The young artiste has three rural soca monarch crowns under his belt this year, having won the South Leeward, North Leeward and Georgetown competitions.
And he said those experiences served as experience for the big stage.
"Believe me, I'm not going to ease up — well — give away this throne so easy. Like how I had to work to take it away from Fireman, you have to work to take it away from Magikal," he said, adding that he was very proud of his accomplishment.
Rouse gave major props to his friend and fellow competitor, Zavique "Caspa G" Morris, who he said helped in crafting the finished product of his song.
He said that Morris was the one to tell him that he had the biggest song on the rhythm and Magikal said he "just want to give him the glory, the belief and the drive what he personally put in me.
He invest a lot in me and I want to tell him thanks".
The 21-year-old also thanked his parents who always believed in him; Digicel, Hairoun and everyone who contributed and supported him in some way to make his performance a good one.
He also said that the money he won in the rural competitions was what he used to invest into his big performance on Soca Monarch night.
Although Rouse has made his dreams come through by winning the crown, he promises that this is only just the beginning.
He revealed that Grenadian soca stars, Lavaman and Tallpree have both expressed an interest in being on a remixed version of 'Bloody Hell Crazy' and he also committed to releasing new music shortly after carnival.
"Everybody expect me to come good next year, for the Soca Monarch itself, but throughout the year, I have projects write and [I have] already recorded [songs] that was to release this season which I hold back," he said.
Vilroy "ZJ Tuffa" Jack, another newcomer to the Soca Monarch competition took the third position with his song titled 'Liver' while Caspa G fell into fourth place with his song, 'Rum Diaries'.