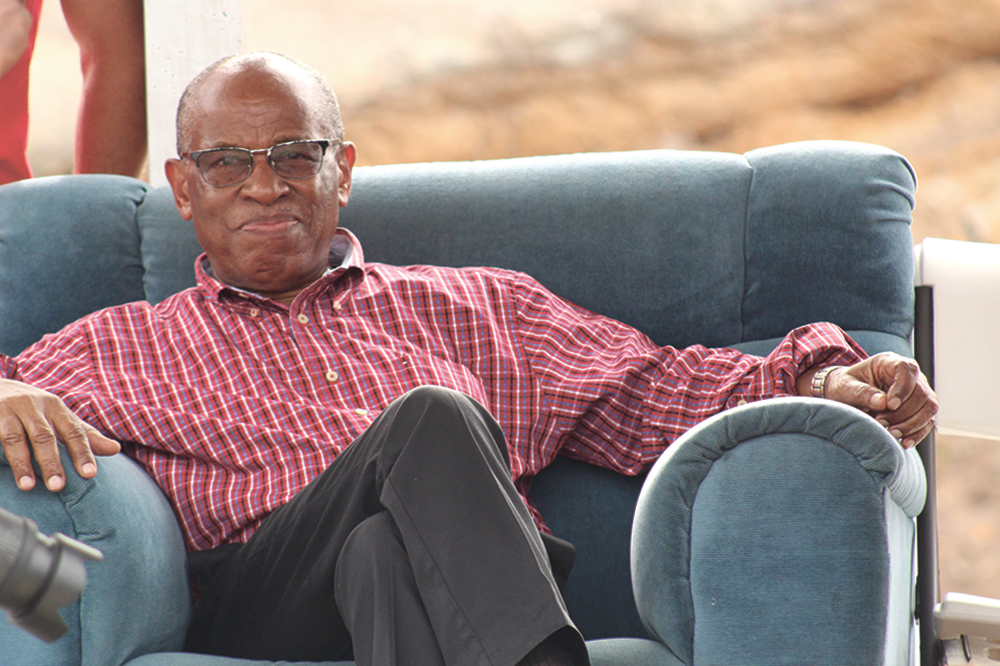 The bid process was exhilarating, enchanting and delightful – Sir Louis
This country's successful bid to sit on the United Nations Security Council could have only been accomplished with the support and solidarity of Vincentians.
Minister of Foreign Affairs Sir Louis Straker made the point last Sunday during a welcome home ceremony which was held at the Argyle International Airport (AIA) for Prime Minister Dr Ralph Gonsalves and the delegation that went to support this country's UN Security Council bid.
Sir Louis, who described the bid process as exhilarating, enchanting and delightful, said the bid was supported and driven by Vincentians including the Cabinet, politicians and numerous other people.
Sir Louis noted that when he returned to active politics in 2015, it was at the behest of PM Gonsalves who told him that the UN Security Council bid that was started under him in 2008 had not been completed and he had to come back to be bring to fruition what he started.
"And so here I am. I thank God for Camillo Gonsalves, the permanent representative at the United Nations that had the ball rolling," said Sir Louis who added that the Ministry of Foreign Affairs and the overseas mission have worked hard to bring the Security Council seat to reality.
Sir Louis said most of all he would like to thank God for Prime Minister Gonsalves, a man who is recognized not only in SVG but throughout the world.
He said that he was proud to see 185 countries not only voting with us but coming one after the other to show solidarity and to congratulate SVG for a victory well earned.
The veteran politician added that a few years ago, it would not have entered anyone's mind to say that SVG, an island that can hardly be seen on a map, could become a member of the Security Council, sitting with some of the most powerful countries in the world.
"It is because of the vision of this government, the leadership of this government because some men see problems and they back away from it, but this Prime Minister and this government see challenges and plunge right into it", said Sir Louis.
"Had it not been for the Prime Minister, had it not been for the ULP government we would not have been where we are today," stressed Sir Louis.
He added that we will make our mark on the Council while trying to uphold peace and security throughout the world.
"The matter of climate change, that is a security threat to people all over the world, in the Caribbean, in the Pacific, we will be able to give voice to those countries that are not represented on the Security Council. We will be their spokesman and we will represent their interest in that council," Sir Louis told the gathering at the AIA.
He said however that there were persons who sent 193 letters to the UN asking persons to not vote for SVG.
"Somebody at the United Nations told me in jest, that we should try them for treason, I say 'no' we are a democratic country and they are free to do whatever they want to do, but no weapon formed against us shall prosper," Sir Louis said.
Also addressing the gathering at AIA, Frederick Stephenson, Minister of National Mobilisation, Social Development, Family, Gender Affairs, Persons with Disabilities and Youth said that it has been a long journey in SVG's quest for a seat.
"It has been a journey of over 10 years. We didn't give up, we persisted and after 10 years here we are," said Stephenson.