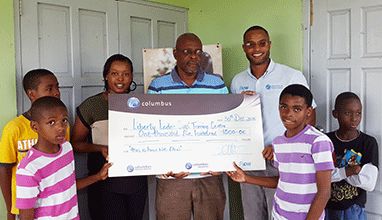 Columbus Communications SVG donates $1,500 to LLBH
Columbus Communication SVG has donated $1,500 to the Liberty Lodge Boys Home (LLBH).
Speaking at the handing over at the Liberty Lodge home for boys in Dauphine last week, sales marketing and communications manager Corey Garrett explained to those in attendance how they raised the funds.
"…Every year our company makes a commitment that as we carry out our Christmas promotion we also…give back or show our corporate social responsibility in some regards. So this year, as stated before, we chose the Liberty Lodge Boys Home to make a donation and we also chose the Golden Grove Senior Citizens home to make a similar donation to," Garrett disclosed.
The funds that were donated to the Liberty Lodge Boys home were raised though an internal raffle for an Iphone 6S, with tickets costing $5 a piece, according to Garrett. "What we did, we had an Iphone 6s donated and we asked our staff to enter our raffle…where the members of our staff each brought several tickets worth $5. We actually sold 110 tickets for the raffle internally, thanks to our staff…which we raised $550; what the company did on top of that then was we actually doubled that amount and then we added on a bit more just to make a nice round figure of $1,500 donated," he explained.
Additionally the Golden Grove Senior Citizens home will receive two free digital video service connections, as part of their recreational activities programme.
"In regards to Golden Grove home…we supplied to the home two free digital video connections, where we actually installed digital video service in the actual home.
"So this is our contribution…or our give back to St Vincent and the Grenadines community, one at a younger stage, of course — the Liberty Lodge boys home and then for our older group, being the senior citizens' home," Garrett explained.(CM