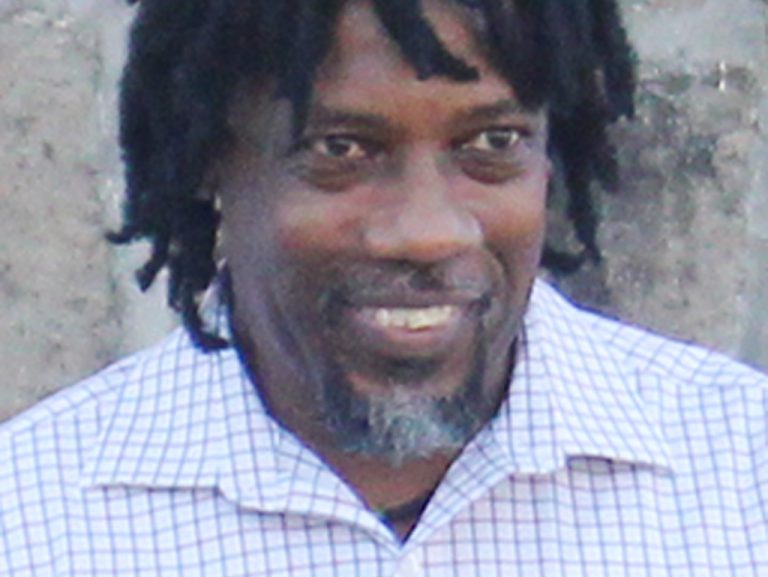 Front Page
December 2, 2022
Jarvis found guilty of murder, to be sentenced in January
After giving his life to Christ in 2010 and preaching the word of God, Junior Jarvis has been found guilty of murder and is awaiting sentencing in January 2023.
Jarvis's decision to become a Christian came after he reflected on the fate of his father James Jarvis who was hanged on January 26, 1978 for murder.
Jarvis, a former journalist, became involved in prison ministry after changing his life.
However, on Monday, November 28 2022, Jarvis was found guilty of the February 14, 2017 murder of Randy Lawrence at Arnos Vale. He was also found guilty by a 12-member jury of seven other charges.
In a 2010 video interview, Jarvis was heard saying "If I had not made the decision [to become a Christian], I would have followed in my father's footsteps and I am following in his footsteps in a different way" (James Jarvis became a Christian before he was hanged).
High Court Judge, Brian Cottle recounted the evidence given during the four weeks of the trial during which 45 witnesses testified.
He noted that Jarvis said during testimony that in 2015 he was granted a permit to obtain a .38 firearm, but he was encouraged to upgrade to a 9 mm for which he was approved in 2016.
He purchased a new firearm on February 10, 2017 and four days later, on February 14, he shot and killed Randy Lawrence, an employee of Bank of St Vincent and the Grenadines (BOSVG).When asked why he thought he needed a firearm, Jarvis said he first applied for a firearm licence when he was a reporter with SEARCHLIGHT Newspaper.
He claimed that sometimes people were not happy with his reporting and would threaten him. He said he was also doing farming and people were stealing his crops.
Prior to the murder, both Lawrence and Jarvis had exchanged heated words with each other at different points and even made allegations against each other.
Cottle recounted that Jarvis said on February 1, 2017 he received a call from police sergeant Daize who stated that Lawrence had reported against him for harassment, and Jarvis told the police officer that he wanted to report that Lawrence had threatened to kill him, but said he wasn't taking it seriously.
Continuing, the judge related that Jarvis said he was invited to meet with the deceased and head of the Criminal Investigations Department (CID), Superintendent Clauston Francis who at the time was an assistant superintendent of police.
At this meeting, Jarvis told Francis why he had not made a report. He also claimed that Lawrence told the police officer that he Jarvis had erectile dysfunction, could not satisfy his girlfriend and another man had to satisfy her.
The judge recounted that Jarvis said during his testimony that he told the police officer that the allegation was not true. He also said that Lawrence had been speaking in an argumentative tone at the meeting.
He also claimed that Francis had been speaking loudly and Lawrence was laughing.
Jarvis claimed that Francis told him to get plenty rest, watch his diet and exercise.
Jarvis also said he did not encourage the conversation and kept quiet, and Francis told him not to interfere with Lawrence, but he did not tell Lawrence not to interfere with him.
In addition, Jarvis said he told Francis that Lawrence threatened to kill him and Francis told him if he killed him he deserved it.
The judge also recounted that Jarvis said Lawrence had blocked him previously on Whatsapp, but unblocked him and he decided that he would not harass him, but whatever he saw as Lawrence's profile picture he would use it as his own profile picture, but there was no communication between them.
On the morning of the murder, Cottle recounted that Jarvis said he was walking in the vicinity of Chill Spot restaurant at Arnos Vale when he saw Lawrence walking towards him. He said they were both walking on the right side of the street and Lawrence was walking briskly towards him and in an aggressive manner.
Jarvis said he decided to cross the street and when he crossed to the left hand side, Lawrence decided to cross as well. He said he stopped briefly to assess the situation and decided once again to cross to the other side of the road. He then saw Lawrence making a move to his right pants pocket and he assumed that Lawrence was going to shoot him, something that he said he had threatened to do.
He said he tried to run to put some distance between them and while doing so, he heard a gunshot and drew for his firearm and fired in Lawrence's direction.
Jarvis said he did not see Lawrence shoot at him. He said he saw Randy running towards two men and assumed he had not been injured by the shots he (Junior) had fired.
Jarvis then went to the apartment of his girlfriend Arisha Pompey with the gun in his hand which caused a scare after Arisha and her aunt, Josette Smith saw the gun.
At this point the gun went off several times at the apartment; the bullet holes were found in the apartment.
Jarvis testified that he left the apartment with Pompey and while in the area of Options Supermarket he saw men approaching him, one of whom he recognized as a police officer.
He raised the edge of his t-shirt to show that he was strapped and armed. He said one of the officers took the firearm and asked if he had a licence, and he produced it.
He was then cautioned and was told about the shooting incident. He was asked what happened and responded that everything was a blur. He was then taken to the Calliaqua Police Station.
Jarvis said he did not murder Randy Lawrence, he was acting in self defence because he thought that Lawrence would have killed him and gotten away with it based on the reactions of the persons he had spoken to; they seemed to favour Lawrence.
He said the two rounds of ammunition that were discharged in Smith's apartment were an accident; he did not intend to kill Smith nor Pompey when he went to their apartment. He also said that he did not trespass into the apartment as he used a key that was given to him by Pompey. He also denied counts of abduction and assault to Arisha Pompey.
Besides being found guilty of murder, Jarvis was also unanimously found guilty on six other charges by the jury of four men and eight women. For one additional charge, he was found guilty, but not by unanimous decision.
The other charges were: (i) Using a firearm to commit the offence of murder, (ii) Entering the home of Josette Smith at Arnos Vale as a trespasser and at the time had a gun which is deemed a weapon of offence, (iii) Attempting to murder Josette Smith (iv) attempting to murder Arisha Pompey (v) Abducting Arisha Pompey,(vi) assaulting Arisha Pomey causing her actual bodily harm and (vii) using a firearm to abduct Arisha Pompey.
On one charge, that of attempting to murder Pompey, the jury did not reach a unanimous decision, but by a 11-1 decision Jarvis was found guilty. He will be sentenced next year.