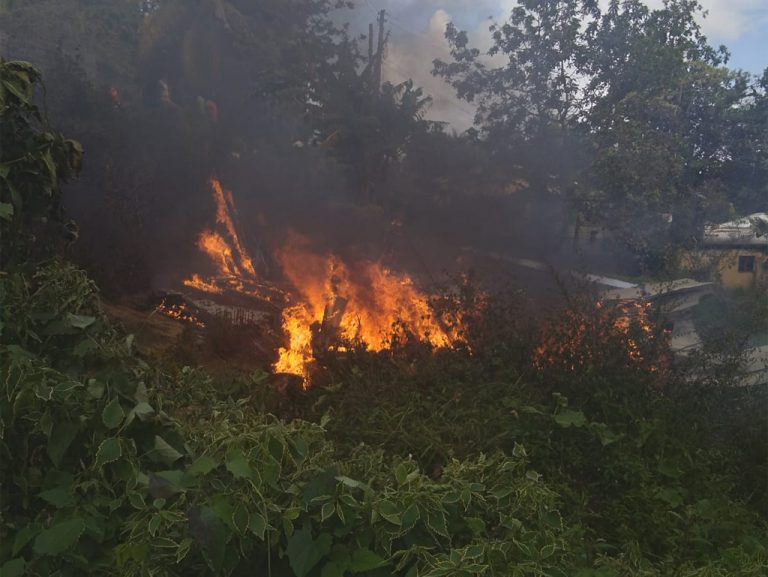 Front Page
November 15, 2022
Woman devastated by fire pleads for financial assistance (+Video)
A family of three from Belair who lost all their possessions in a recent fire is pleading for assistance from the public and government to get back on their feet.
Andrea Allicott told SEARCHLIGHT since the fire, which occurred in March, it has been difficult to make ends meet and provide for her two children.
The woman, who sold food for a living suffered an additional blow when her son lost his life shortly after the fire.
Allicott explained that all that she and her children possessed, including the equipment used in her business, was destroyed in the fire.
She was forced to enter a rental agreement at a new home, a decision she said that has created a significant financial burden on her.
"I renting a house and have to pay $750 and also light and water to pay. I only working part-time, and I am a single mother."
Allicott said she was advised by West St George Parliamentary Representative, Curtis King, to seek assistance from the Ministry of National Mobilization; however, she said that has been a frustrating experience.
"They keep spinning me around and they tell me I need to go for the fire report."
Allicott said she was told she needed to pay EC$100 to obtain a copy of the fire report to submit to the ministry but she was unable to raise the money.
She said since the fire and subsequent loss of her business, her income has been hit hard.
"I lose about three-quarters of my income. I used to accumulate a couple hundred dollars a day when I was self employed, now when I work it is $50 a day, sometimes $45."
Allicott said the family is open to accepting donations from the public.
SEARCHLIGHT understands that the family has not been able to qualify for assistance with accommodation as information contained in the fire report claims they were not physically occupying the home at the time of the fire.