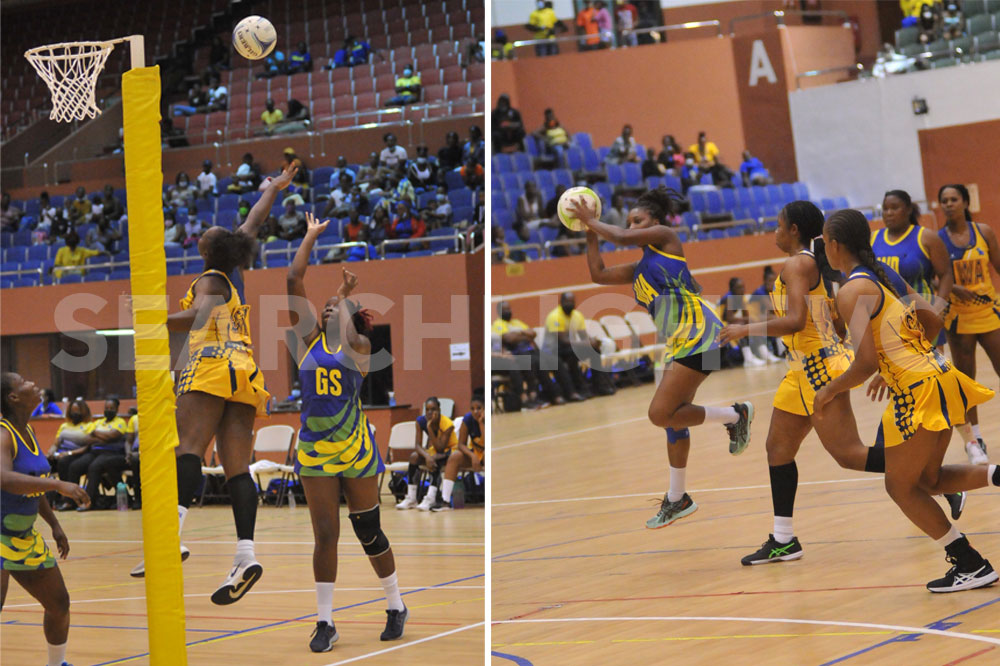 Bajan Gems make clean sweep of Invitational Netball Series
Barbados last Saturday swept the three-match Invitational Netball Series against St. Vincent and the Grenadines (SVG) with a hard fought 57-44 victory in the final martch. SVG won the first quarter 15-10, but a number of errors resulted in the hosts storming back to win the second 26-23; the third 40-30; and the fourth 57-44.
Barbados' victory charge was led by goal-shoot, Shonica Wharton who sank 41 goals of 44 attempts; goal-attack, Brianna Holder with 10 from 13 attempts; and substitute goal-attack, Latonia Blackman 6 from 6 attempts.
Vincentian goal-shoot, Mary-Ann Frederick netted 36 of her 43 attempts; Shellisa Davis scored 3 of the 7 attempts taken; Joseann Antoine scored 5 of 7 attempts ;while Kimesha Antoine did not have an attempt at goal.
In the opening match on Friday night, Barbados took full advantage of a slow start by the visitors to register a first quarter 14 – 5 lead in the opening salvo of the Invitational Netball Series between hosts, the Bajan Gems and the St. Vincent and the Grenadines Netball Team at the Sir Garfield Sobers Gymnasium.
The second quarter was a much closer affair as Barbados outscored SVG to end the second quarter 25-14.
In the third quarter nine goals were scored by each team, the third quarter ending 34-23 in favour of the Bajan Gems. But while St. Vincent and the Grenadines maintained a 9-goal scoring rate, the Gems netted 14 to win the match 48-32.
For the touring Vincentians goal-shoot, Maryann Frederick netted 26 from 34 attempts; while goal-attack, Shellisa Davis scored 6 from 10 attempts.
For Barbados, goal-shoot, Shonica Warren scored a total of 24 from 27 attempts in the first, second, and third quarters before she was substituted.
Substitute goal-shoot, Faye Sealey scored 13 from 14 attempts; while goal-attack, Brianna Holder scored 11 from 15.
The July 7-11 three match Invitational Series is part of preparation of both countries for overseas representation. The Bajan Gems are preparing for the Commonwealth Games in Birmingham to run from July 28 to August 8, 2022, and the Netball World Cup Qualifiers in Jamaica in October 2022, where both St. Vincent and the Grenadines and Barbados will be competing for a place at the Netball World Cup in South Africa in 2023.