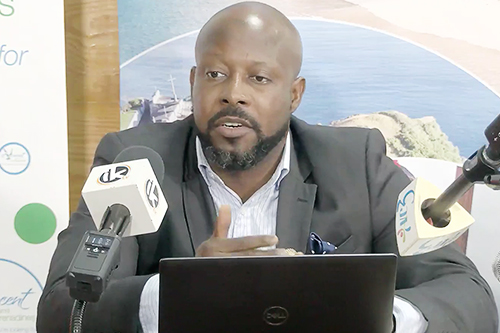 Front Page
April 14, 2022
Easter outcome will determine Vincymas direction – Minister
For the first time in two years, many Vincentians will be able to travel to Bequia and Union Island to participate in a full range of activities over the Easter weekend. 
But according to tourism minister, Carlos James, "What transpires post Easter will really determine the direction we go as it relates to our premier festival, Vincymas".
Officials announced on April 5 that this year will see the return of the Easter Regatta, Easterval activities and Vincymas in all their full glory. 
This is as a result of a change in COVID-19 gathering protocols which removed restrictions on the number of persons allowed to gather, regardless of their vaccination status. 
"I also want to emphasise again that though we expect to have a full on carnival…and also during the Easter weekend, a full on period of activities during the Easterval and Bequia Regatta, the positivity rate on the day and leading up to these events, will determine how our activities proceed during those periods," James emphasised. 
The tourism minister noted that the limited period in which organisers have to plan does not allow for there to be a significant international presence during the Bequia Easter Regatta. 
He added however, that plans have been put in place for a lot more activities that will see a number of different categories of boats and the participation of youth sailors.
 
Easterval activities in Union Island were also officially launched on Sunday, April 10. 
"We expect to see a number of private promoters who are putting on activities, but also the Easter Committee and Union Island Tourist Bureau have been doing tremendous work and continue to work together to host a number of activities during the Easter," James said. 
The tourism minister said there has been much conversation about the need to have a national release but noted that there are greater things to be considered. 
These include "the preservation of our culture, our cultural identity as a people, the promotion of artisans in their work to ensure they are also able to generate revenue within this period and importantly, to ensure that we do not lose the calendar dates that are listed for Vincymas in St Vincent and the Grenadines — the hottest carnival in the Caribbean." 
According to James, some countries have been attempting to shift their events to St Vincent's July slot. He further noted that this country must continue hosting activities during that period so as not to lose its premier slot. 
Easter activities in the Northern and Southern Grenadines, as well as Vincymas are subject to changes based on protocols during the given periods. 
"If for any period, we have positive cases coming out of different health districts which can indicate to us the possibility of community spread, quite obviously, our health officials will have to do the responsible thing and make the necessary adjustments to our health protocols, which will obviously affect how we roll out activities during the Easter weekend and also during the Vincymas festival," he said. 
James added: "That is why I continue to encourage us to importantly get vaccinated, limit the transmission, adhere to the protocols, wear a mask, protect yourself, protect your families and loved ones and generally the public, and be alert as to the possible locations you may go to, which can put you at risk and persons who are vulnerable in our population, at risk".