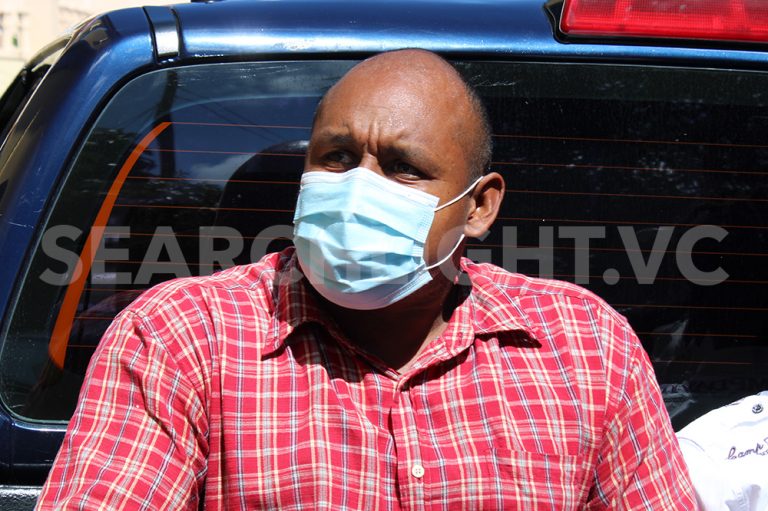 Front Page
January 25, 2022
Owia resident charged with cocaine possession
An Owia resident who became unemployed during the pandemic has been taken before the court charged with possession of 3.6 kg of cocaine with intent to supply.
Members of the Narcotics Unit took Rodney 'Jamba' Thomas, 33 years of Owia, to the Serious Offences Court (SOC) yesterday, January 24.
The 33-year-old hesitated when his name was called and did not seem to know that he was supposed to go into the dock.
It was then put to him that on January 22, in Owia, he was in possession of 3623g of cocaine with intent to supply, and that he had it for the purpose of drug trafficking.
Thomas told Chief Magistrate, Rechanne Browne that he was 'Not Guilty' of the offences.
Prosecutor, Sergeant Renrick Cato objected to bail stating that the investigation was ongoing and it may result in other charges or other persons being charged. The prosecution submitted that the defendant may hinder investigations if granted bail. Cato asked for at least one week's adjournment and that the matter be set for a date for report.
Counsel, Jeshua Bardoo who is holding papers for counsel Israel Bruce, responded with a request for bail to be granted to his client.
"The defendant has been in custody since Saturday morning I understand, the prosecution, the police could have been doing their investigations then and even up to yesterday they could have also been doing their investigations," Bardoo pointed out, adding that they can do so even if his client is granted bail.
He said that Thomas has assured him he will attend court for the next date given, and that he is willing to submit to any conditions that the court imposes on him. He has also been assured by his client that he will not interfere with any witnesses in the matter.
"My client also has a fixed place of abode. He lives with loving and upstanding family members who are willing to ensure that he comes before this court for the next hearing, " Bardoo stated. These persons include his mother, father, sister and younger brother.
According to the lawyer Thomas himself has no previous convictions and neither has he ever been charged with any offences.
Bardoo said his client is a productive and upstanding member of society who graduated from the Georgetown Secondary School and "after that he pursued sailing on a Norwegian cruise line."
He said, "Due to the pandemic unfortunately he became unemployed in 2020 and therefore he had to stop sailing". After this he travelled to Canada to find employment but was unable to do so and returned to St Vincent and the Grenadines (SVG) in July 2021.
:…For many years he's been an upstanding member of society and he has been a productive person of society and if he is granted bail he hopes to continue that to hopefully gain meaningful employment sometime soon," the counsel said.
He concluded that he believes in the circumstances, it is unreasonable for the prosecution to object to Thomas' bail and that the defendant does not need to be in custody for a week or more for them to complete their investigations.
The magistrate noted that after the lawyer's extensive presentation it would be most unreasonable not to grant bail.
She set bail at the sum of $30,000 with one surety. Thomas is also ordered to report to the police station in his district twice weekly and surrender all travel documents including his passport, identification card and driver's license. Stop notices will be placed at all ports of entry and exit against him.
He will only be able to leave the state for any reason if he receives permission from the court.
Thomas will next appear on April 4.
While relatives seemed prepared to sign bail on his behalf, they were not quite ready with the documentation yesterday. Thomas therefore left with the police transport.
This matter is said to be connected to a larger investigation following police raids in Owia over the weekend. Media reports are that 50 kilos of cocaine was found at the Owia Clinic and this has been confirmed to be true.