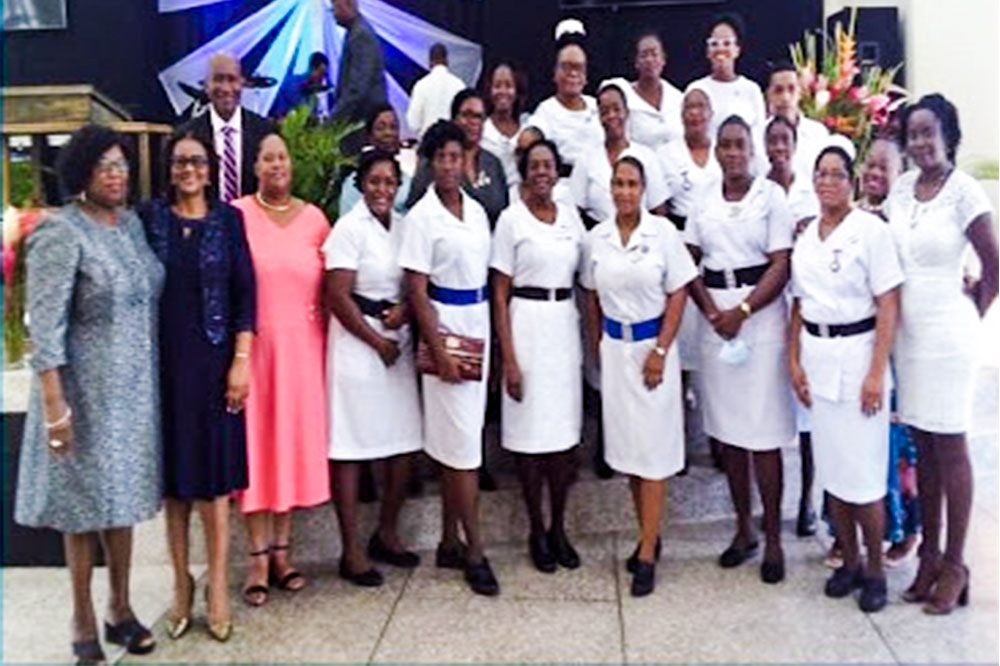 SVG Nurses Association wraps up week of activities
Some 24 Registered Nurses (RN) were trained and received professional certification as mentors during a series of activities organised by the SVG Nurses Association to mark International Nurses Day 2022.
The training was done at a workshop held on Friday, May 6.
"The program will not only help the novice to transition from the orientation process to efficiently performing their roles and responsibilities," a release from the Association said.
It will, "also provide an avenue for communicating expectations, integrating theory into practice, and afford guidance on career pathways and psychosocial support, which is very important as the profession can be stressful at times coupled with personal challenges nurses may face".
A second training commemorative activity which dealt with "Meeting Procedures", took place on May 10, facilitated by Keisha Phillips, Training & Education Co-ordinator/Public Relations/Communications Officer at the Centre for Enterprise Development Inc. A total of 17 Registered Nurses of various categories were engaged in this session where they looked at how to successfully plan and execute meetings to strengthen the team and build capacity; protocols for conducting meetings; procedures for passing motions and resolutions; and also included concepts and theory and practical activities to conceptualize and plan meetings.
A new executive was elected to administer the business of the Association at the Annual General Meeting on May 12, International Nurses' Day, on which the president, Cheryl-Ann Felix-Noel addressed her colleagues. The meeting, held virtually saw the election of Felix-Noel a ward manager at the Milton Cato Memorial Hospital (MCMH), as president.
Other members on the executive are:
Vice president- Health Nursing supervisor, Shelly-Ann Alexander-Ross, Community Nursing Service; secretary- Ward Manager Melissa Stowe, Mental Health Rehabilitation Centre; assistant secretary- Ward Manager Dalian Hepburn, MCMH; treasurer- Ward Manager Jameil Bartholomew, MCMH;
assistant treasurer- Staff Nurse Monifa Chambers-Webb, Union Island Hospital; and committee members in staff nurse Zenon Marshall, MCMH; Departmental Manager Camelita Cordice, Modern Medical and Diagnostic Centre and Ward Manager Jadese Francis, Lewis Punnett Home.
The new executive will serve for the 2022/23 term.
Other events staged were a fitness walk and socialization from the Kingstown Health Centre to the Arnos Vale Sports Complex on Friday May 13; a praise and worship session at the Kingstown Baptist Church on Sunday, May 15; and an awards and recognition ceremony on May 27, at which 61 Registered Nurses and nursing personnel from the MCMH; Community Nursing Service; the Mental Health Rehabilitation Centre and St. Vincent and the Grenadines Community College- Division of Nursing Education were rewarded with plaques as recognition for outstanding performance in their clinical practice.
Twelve retired nursing stalwarts were among the 61 who were recognised.The SVG Nurses Association said it is grateful for the support it received from the Corporate sector of St Vincent and the Grenadines; the Embassy of the Republic of China (Taiwan); the nursing fraternity and others for the success of its activities which were held under the theme:
"Nurses a voice to lead: Invest in Nursing and Respect Rights to Secure Global Health".