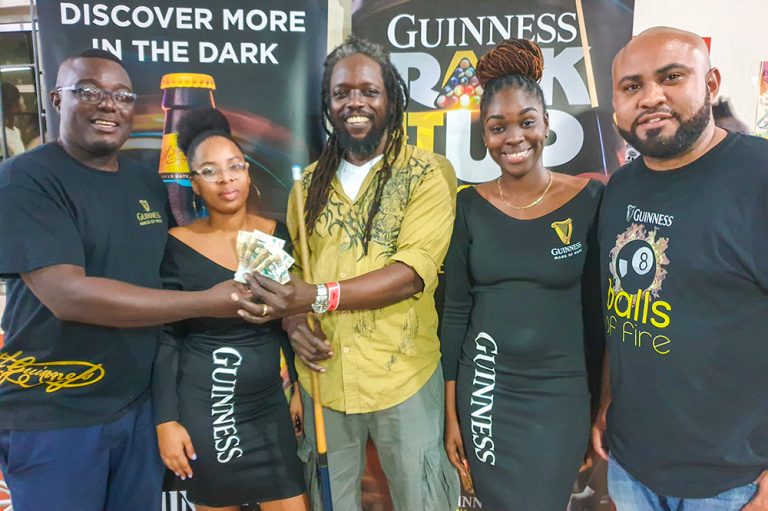 Vermont resident in line up for second Guinness pool championship crown
Alston "Bun-up" Barker now stands the chance of becoming the only person to win two Guinness pool championship crowns.
The Vermont resident took the fifth leg of the 2019 "Rack it up" Guinness pool competition which was held at the Police Canteen last weekend.
Barker beat Dygo Sergeant two games to one in the final game of the fifth leg after the two emerged the top performers out of a group of 74 players.
Barker, who was the first winner of the competition when it was first held in 2015, said this is the third time he is making it into the finals and he feels great.
"The idea is to win in the finals," said Barker who has been playing pool since he was nine years old. He said he was proud to win the last game against Sergeant without his opponent scoring any of his balls.
The sixth leg takes place at the Skyline Bar in Bequia this Saturday, March 9 while the other legs will be held at Cool Corner Bar in Cane End on Friday March 15 and Azard's Bar in Troumaca on Saturday March 23.
The grand finale takes place on Saturday, April 6 at the Spotlight Stadium in Georgetown.
Persons register on game night by purchasing three Guinness beverages for $12. Each registered person will play in a best of three game and the winner moves on to the next round until there is only one person left.
The other persons into the finals so far are Roy Bullock of La Croix (won at the West Side Bar in Cemetery Hill), Glenrick Edwards of Georgetown (won at Nan-I's Shop in Pembroke), Tex Franklyn (won at Captain Lano's in Villa) and Edgar "Benji" Bobb (won at the Drop Off Nightclub in San Souci)
Players are asked to be at the venue at 6 pm on competition night to register and registration closes at 7 pm. Preliminary round winners are rewarded with $600 while the winner in the grand finale will get $6000.