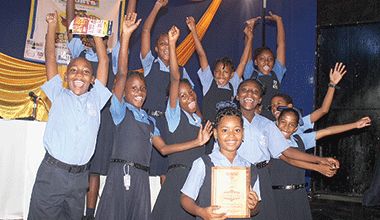 I think I can bring home the trophy – Courts reading champion
Kaylee Robertson, this year's winner of the Courts OECS Reading Competition, says that she believes that she can bring home the elusive trophy to St Vincent and the Grenadines in the regional finals.{{more}}
Nine-year-old Kaylee, a student of the Stubbs Government School, earned the right to represent SVG later this year in St Kitts and Nevis when she won the local leg of the event last Friday – defeating six other schools in the process.
Kaylee, who lives at Diamond, said that she is nervously looking forward to the regional finals.
"I feel a little afraid, but I think I can do it this time. I think I can win and bring home the trophy," she enthused.
"If I win, I will jump and hug my mom and I will be so happy!"
To prepare for the regional finals, Kaylee said that she will be spending extracurricular time reading with her teacher on afternoons.
The Grade 5 student expressed gratitude to her teacher Ashik George and her mother Cheferne Robertson for their coaching and support in preparation for the local finals.
Kaylee's mother described her daughter as "very dedicated", and said that she [the mother] was quite emotional when Kaylee was announced as the winner.
"I am very proud of Kaylee," said Robertson. "I knew she has the ability, but it was still a bit of a shock!"
Additionally, Kaylee disclosed that Mathematics is her favourite subject, because she finds it challenging – an attitude that will surely assist her in her quest for regional 'gold'.
The youngster is not the only person hoping for a regional win. Local organizers are hoping that the Vincentian drought will come to an end, since SVG has never won the event in its eight-year history.
Officials felt that while previous local finalists came extremely close to winning the title, they are hopeful that Kaylee can break the spell and "bring home the bacon" for her country.
Kaylee also thanked her schoolmates and teachers for their support, and also thanked Courts SVG Ltd for the opportunity to represent her country.
She was also thankful for the support she received from her schoolmates and her school, and especially excited about the prizes won, which include: EC$2,000, a trip to St Kitts/Nevis to represent SVG in the regional finals, a smartphone from FLOW, a Kindle HD Fire from Searchlight Newspaper, a laptop, the opportunity to read the news on SVGTV, and other prizes from Better Brands, St Vincent Brewery (Vitamalt) and Jujube Bookstore.