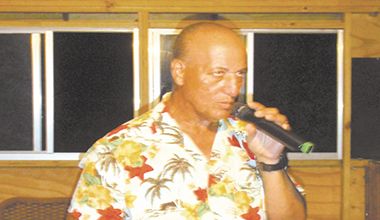 Lenny outshines competitors to win Singing With The Stars
James Lenny has been crowned the latest winner of the Singing With The Stars karaoke competition.{{more}}
The Christmas edition of the competition wrapped up last Sunday evening at Huffles ranch in Brighton, with Lenny out-singing seven other finalists and taking home a cash prize of $300, a food basket, compliments K&L Auto Customs Brokerage Agency, two cases of Hairoun beers, a hair style from Line Up Beauty, and a photo shoot from Crown Photography.
The other contestants in Sunday's finals included Savannah John, Dane Jack, Lovitia Boyea, Portia Ross DaSilva, Felecia Davy, Fitz-Rica Ollivierre and Michael Warren. Guest appearances were made by Keith Baptiste, Vivi Soul, and Commissioner of Police Michael Charles, among others.
The finals will be aired today on SVG Television at 8:30 p.m.