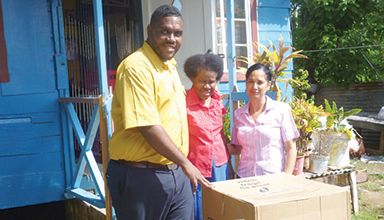 Courts St Vincent makes donations to worthy causes
Furniture and appliance store Courts St Vincent, as part of its Corporate Social Responsibility, made donations to two worthy causes this week.{{more}}
On Tuesday morning, officials from the store journeyed to Villa Flat where a 20-inch MABE stove was delivered to Yvette Gilbert, a resident of the area who was desperately in need of a new stove.
"Miss Gilbert, who still enjoys cooking at her age, was in no position to purchase a new stove, and when it was brought to our attention that the stove she had gave up on her and was in a state of disrepair, we at Courts decided that we definitely had to intervene and come to her assistance," Courts commercial manager Lisa Veira said.
"We hope Miss Gilbert enjoys using this stove as much as we take pleasure in providing it to her," she added.
Also on Tuesday, Courts made a donation of an Acer tablet to the organisers of the Secondary School Bible Quiz competition.
Commercial officer Indra Grant presented the electronic device to Joel Jack, organiser of the SSBQ, who indicated that the tablet would be used as a prize for one component of the competition, which came to an end with a prize giving ceremony the following day.
Grant noted that it was Courts' hope that the donation would help in the development of the individual who earned it through their study of the bible, and added that the competition was a positive investment in the developing of the country's secondary school youths.