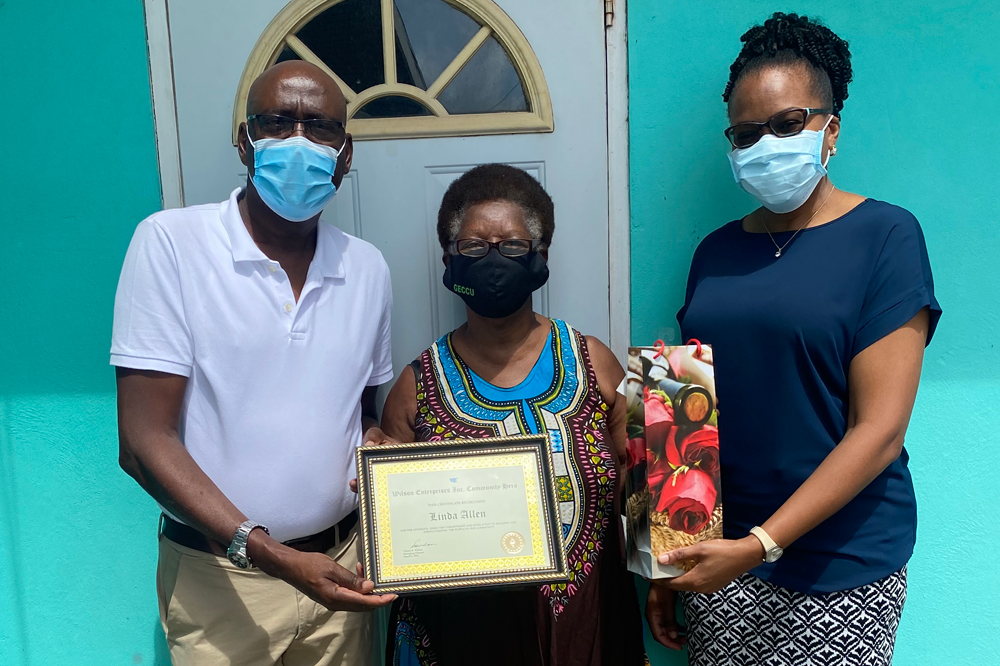 Wilson Enterprises Inc honours Community Heroes
Wilson Enterprises Inc. operators of the Sol station located on the Arnos Vale Main Road acknowledge that there are many who, in their own quiet way, have given generously and selflessly in helping to build and strengthen our community. Under the banner of "Community Heroes", Wilson Enterprises Inc has awarded Mrs. Linda Allen, Mr. Alban Bowman and Mr. Edgerton Scott for their valuable contribution which has been made away from the national spotlight.
Mrs. Linda Allen has spent her entire life teaching at every perceivable level. She has trained many young minds and taught them lifelong skills and values both in and out of the classroom. Many have made their livelihood from the skills which they have developed through her guidance and instruction.
Mrs. Allen loves music and for as long as she can remember has been sharing her musical experience with anyone who is willing to learn. Her love of music combined with her strong Christian faith have propelled her to use music as a launching pad to spread her Christian witness in her home churches first at Troumaca and later in Arnos Vale. She has opened up her home to be used as a music teaching studio where students are exposed to training for piano, violin and later, guitar- which she negotiated while offering herself up for training alongside her students!
Mrs. Linda Allen is of the view that knowledge shared is knowledge multiplied and so sought opportunities to share whatever she felt she could, even with space limitations. She has willingly opened up her house to anyone who possesses an interest in learning the fundamentals of music. She creates no barriers whatsoever for music lovers and is doubly excited when anyone shows a genuine desire to learn. As a result many of her students have reached significant heights in music.
After a brief stint as a teacher Mr. Alban Bowman studied pharmaceuticals over a three year period (1969-1972) and was then posted to work north of the dry river during the years 1972 to 1975. This proved to be quite an interesting and invaluable experience as he essentially functioned as doctor, pharmacist, nurse, and midwife all in one. As there was no electricity in the area at that time, he had to use a tilly lantern to perform his duties at nights. His mode of transportation over the dry river was by a donkey on the dirt roads and by wooden buses to Kingstown. Back then there was no telephone system. Mr. Bowman also served as relief pharmacist in Union Island for six months while the assigned pharmacist was on sick leave.
As medical Supplies Officer Mr. Bowman was St. Vincent's first representative on the OECS pool purchasing of drugs and supplies committee following the execution of the agreement in 1986 and he was also instrumental in having the Medical Supplies Building constructed. Under his stewardship as Chief Pharmacist all the government pharmacies were air conditioned to aid with the proper storing of the drugs, and the fully staffed and 24/7 functioning hospital pharmacy was established.
Although Mr. Bowman retired at the end of 2004 he was called back to work for an additional ten years due to a shortage of local Pharmacists. During this period, he served at the Lewis Punnett Home, the Mental Health Centre and travelled to Canouan every Wednesday. Now fully 'retired' Alban assists as a pharmacist at Bowman's Pharmacy in Arnos Vale and facilitates (many times out of pocket) persons who come to his home seeking assistance with medication and supplies. He still does quite a bit of patient counselling and advising to the elderly and on mental health illness etc.
Charles Edgerton Scott qualified as a teacher at the the Erdiston Teachers' College in Barbados. He taught at the Westwood Methodist, Troumaca Government, Chateaubelair Methodist, Richmond Hill Government, Belmont Government, Stubbs Government, Paget Farm Government and Mayreau Government schools impacting the lives of many children across the State.
After obtaining a Diploma in Agriculture from Reading University in England Mr. Scott was attached to the Ministry of Education as Agricultural Organiser. He was responsible for introducing and overseeing Agricultural Education in all Primary and some Secondary Schools as well as at the St. Vincent Teachers' College. It is from this position he retired over 38 years ago.
Edgerton Scott grew up within the Methodist Church and was a Sunday School Superintendent and President of the Wesley Guild. Mr. Scott became a fully accredited Local Preacher within the Methodist Church in 1949 and has the distinction of having preached in every Methodist Church in St. Vincent. He was a disciplinarian and was instrumental in molding the young men and women in the church.
Mr Scott was an active member of the Arnos Vale Cooperative Society and the Association of Senior Citizens of St. Vincent and the Grenadines (ASCOVAG; both now defunct. He is well known in the Arnos Vale community by all and sundry particularly for his distribution of fruits and vegetables from his garden to church members, others in the community and his long standing friends in and around Kingstown.