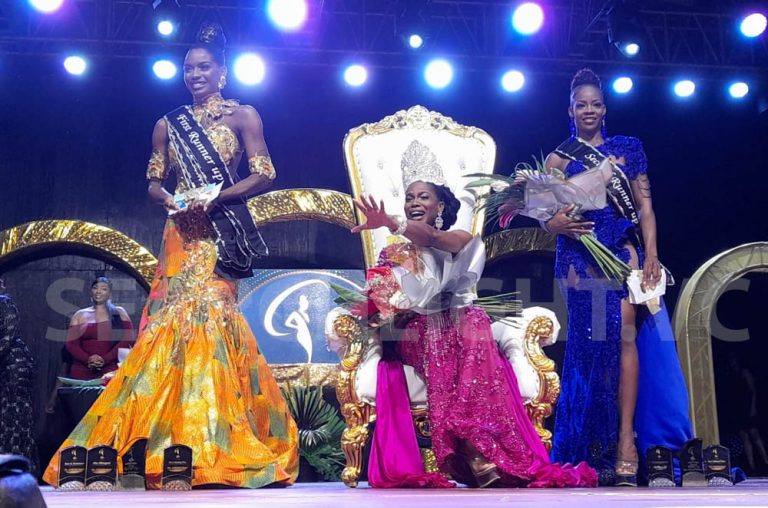 Breaking News
October 30, 2022
Miss Lotto Jada Ross crowned Miss SVG 2022
Twenty-one-year-old Jada Ross, Miss Lotto, has been crowned Miss SVG 2022.
The aspiring professional athlete, actress and media influencer emerged winner ahead of seven other contestants in a keenly contested pageant at the Arnos Vale Sporting Complex on Saturday night.
Ross was adjudged to be the best in the Talent and Interview categories, edging out Shadyn McLean into the first runner-up position.
McLean, who appeared as Miss DAVYN placed first in the Swimwear and Evening Gown categories.
Second runner-up was Shanyah Peters, Miss FLOW, who also got the judges nod for Best Cultural Wear.
The other contestants were:
Tanique Swift, Miss Massy Stores Ltd.
Arielle Ollivierre, Miss St Vincent Brewery Ltd.
Shannan John, Miss CEDCO
Rockel Coombs, Miss Intransit Export
Pallavi Browne, Miss Play 4
Here are all the awards:
Miss SVG 2022 – Jada Ross – Miss Lotto
1st Runner Up – Shadyn McLean – Miss DAVYN
2nd Runner Up – Shanyah Peters – Miss FLOW
Best Cultural Wear – Shanyah Peters – Miss Flow
Best Swimwear – Shadyn McLean – Miss DAVYN
Best Talent – Jada Ross – Miss Lotto
Best Evening Gown – Shadyn McLean – Miss DAVYN
Best Interview – Jada Ross – Miss Lotto
GECCU Miss SVG Community Project
1st – Shannan John – Miss CEDCO
2nd – Jada Ross – Miss Lotto
3rd – Shanyah Peters – Miss Flow
Miss Congeniality – Shannan John – Miss CEDCO
Miss Photogenic – Shadyn McLean – Miss DAVYN
Most Community Spirited – Shannan John – Miss CEDCO
People's Choice – Shannan John – Miss CEDCO
[[UPDATED on Sunday October 30, 2022 at 10:50 am to include the names of all the contestants.]]