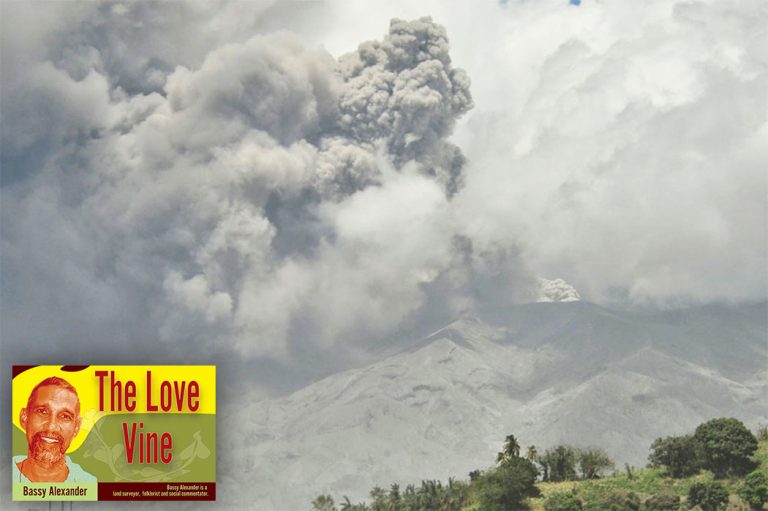 Bassy - Love Vine
August 26, 2022
Me nar move
"Me Nar Move, move fuh wah? Ah de same sky ova all arwe head. Fuh me move de sky go haffu drop down and no mo earth nah dey…."Run to town fuh wah? Who go tek care ah me animals dem? Me experience Sufray larse time, me nah bin move, move fuh wah? …."Me haffu dead one ah dese days, if ah Sufray fuh kill me well…wey me go do? When yuh ded yuh ded, All me kno' is Me Nar Move… fuh wah."
Author, NC Marks is ah boss, she is ah crafty writer, she got me hey laughing me tail off wid her 90 sum-ting short poems from her newest poetry collection " Children of the Ash." It's all about de 2020-2021 Volcanic Erupt-shun of de La Soufriere in SVG, and she dug deep in de Vincy Vernacular as "she exposed de dirty realities of life and landscape-altering experience of de (Red Zone) people of SVG." Lie-Za sums it up nicely, she says it's: " Spice-E! Whit-E! Bite-U! Sting-U! News-E! Bold' N Brave-E! Touch-U and Guns-E!" But her Fair-foh-it piece is "Minister Everything" on page 31 says: " And though there is a Minister of this, Minister of that, He is Minister of everything! Dengue Fever? He becomes the Mosquito Minister! Covid 19?
He becomes the Cough Minister! La Soufriere explode? He he becomes the Volcano Minister! Heavy Rainfall ? he becomes the Weather Minister! Health Minister becomes unhealthy, he becomes the Wellness Minister! He controls the Narrative, clogs the Media Pipes, shed convenient Tears on every single issue, except RAPE! He is not the Minister of Rape!" Foh me dis book is ah must read, ah non-stop read, is ah Christmas Gift, in fact ah n-joy de book so much, wid de price, ah buy one second copy, actually ah plan foh read it ah second time.
DEY SHOULDN'T AH MOVE BACK
La Soufriere erupted twice in my lifetime. In 1979 dey was much disrupt-shun and devastray-shun foh folks living in de Red Zone, those communities closest to de volcano. Folks spent months in Shelters where living conditions deteriorated, so much so, dey were anxious to move back to dey homes even though most of dem were badly damaged. But our Indigenous peoples are resilient and full ah pride, dey rose above de ash and rebuilt dey communities dat cost millions ah dollars, . Forty-one years after 1979, ah second erupt-shun, bigger dan de first took place. Indigenous people again on de move, Same procedure, back into shelters, dis time de La Suffrey behaved worse dan in 1979, mash up de place. After months in shelters, de folks wanted to get back into dey homes. It was "Déjà vu" dis time wid de help of Friendly Samaritans and Funding Agencies, ah quick fix resettlement program has begun. Lie-Za describes it as Project "New wines in Ole Bottles," Red Zone residents will be moving into new homes but within de same ole Red Zone. Is like lickle or no concerns are given to de possibility dat God forbid sooner or later, 40, 50,orm 60 years hence, dey could be another eruption, Lie-Za wants me to find out which Go-venom-mint minister wid de exception of Area Rep Gomry Daniel and Opposition Senator, Cheverne John de nex Rep foh de Area, will be willing to give up his/her Green Zone residence, use dey own money, no under de table stuff , build ah million dollar palace in de Red Zone to live in. De Green Zone is not too good foh our Indigenous Red Zone people. And wid dat is gone ah gone again.
One Love Bassy.
Bassy Alexander is a land surveyor, folklorist and social commentator.