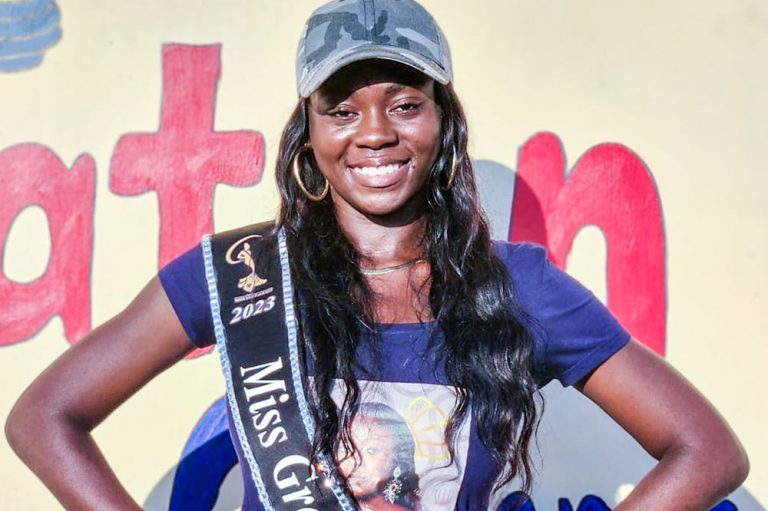 Miss SVG contestant turns grief into motivation for community service
Letiesha Barbour, who recently culminated a week of community service with a fun day is using the recent loss of her "mom" as motivation to succeed in the Miss SVG Pageant.
On Saturday, September 9 SEARCHLIGHT spoke with Contestant #1 in the Miss SVG pageant at her Impact lab which she hosted in her home village of Bamboo Square, Barrouallie.
The event saw children from the community eagerly waiting in line to have their faces painted, while others danced to the music that was being played by a sound system that was set up at the Barrouallie Playing Field.
In an interview with SEARCHLIGHT, Barbour, who is sponsored by Grenadine House said the event featured the sports sector as it relates to the Inspiration Economy.
"We have the kids doing running races, sack races, football. We also have the unveiling of my mural which depicts the inspiration community which shows the different interconnectedness between all the different skill area here in Barrouallie and we also have a little bit of fun for the children where they have a bouncing castle…"
She said that the mural was completed a few minutes before two on Saturday morning, and was done with the help of different members of the Barrouallie community.
Barbour said Saturday's event was meant to be the last of her community service activities, However, her guardian Gracie Bulze, who "was basically my mom for all my life" passed away two days before the event.
"It's a sad situation but I look at it as motivation and I know that I have to do this for her," Barbour said, adding that Bulze had shown her nothing but support from the time she entered the pageant.
"Listen, the night of the unveiling, as soon as I got a chance to get my phone, the first person I called was my mama and she was like, 'Girl you make me feel nice' and that made me feel like yes, I have my mama support and I know I can do this."
Barbour continued that the support she has received incredible support from her community in all the other community service events that she hosted.
"I must commend my community members as …regards … the support they have shown me through this journey. It is commendable. They are doing a great job. They have been motivating me [so] apart from family motivation, my community members have played a great role as it relates to my motivation going into the night of the show.