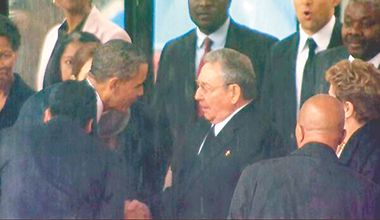 Parliament temporarily suspended over US, Cuba friendly move
Parliament was suspended Wednesday, and the presentation of the 2015 estimates pushed back one day, to Thurs­day, following news that the United States and Cuba had taken "executive decisions" to normalise relations between them.{{more}}
On Wednesday, Prime Minister Dr Ralph Gonsalves described US President
Barack Obama's announcement as "earth-shaking movements politically," and a "dialogue between civilised peoples."
Leader of the Opposition Arnhim Eustace agreed with the sentiment, saying: "I really look forward to the deepening of that relationship."
In an official statement aired on NBC Radio, the Prime Minister stated: "The Govern­ment of St Vincent and the Grenadines enthusiastically welcomes today's executive decision… to take significant steps towards the normalisation of relations between the United States of America and the Republic of Cuba."
Gonsalves lauded the move by the two countries – both of which are allies of SVG – describing it as "courageous and historic."
"The fractured and fractious relations between Cuba and the United States has been an undeniable impediment to hemispheric relations, regional integration, and multilateral diplomacy in the Americas," he asserted.
"As the largest and most populous island nation in the Caribbean, Cuba has the potential to spur economic growth and development across the region."
As announced by President Obama on Wednesday, the first steps towards normalising relations will include: easing of travel, banking and remittance transfer restriction between the US and Cuba; the removal of significant restrictions on US businesses and technology providers wishing to operate in Cuba; the re-establishment of embassies in Havana and Washington DC; and the removal of Cuba from the list of states that sponsor terrorism.
Additionally, both governments will release individuals characterised by either side as "political prisoners" – having already started with US citizens Alan Gross and an unnamed US intelligence officer; and three of the 'Cuban Five' jailed in the US in 2001 for spying.
Gonsalves acknowledged that on his own, President Obama cannot end the "illegal and immoral" US blockade of Cuba without the support of the American Congress. However, he said that he is hopeful that Obama's move will inspire those with the authority to "completely eliminate all remaining vestiges of the blockade."
The Prime Minister further stated that he and his Government have long been "strong critics" of the blockade, and have long lobbied for the normalisation of relations between the two nations.
"The Government of St Vincent and the Grenadines is heartened that its voice, in concert with the overwhelming weight of international opinion, has finally been heeded by the United States authorities," he said.
"We are confident that the maturity and courage exhibited by Presidents Obama and Castro epitomise the manner in which these differences can be aired and possibly resolved… We stand ready to continue to play our own part in the full normalisation and restoration of ties between these neighouring nations."