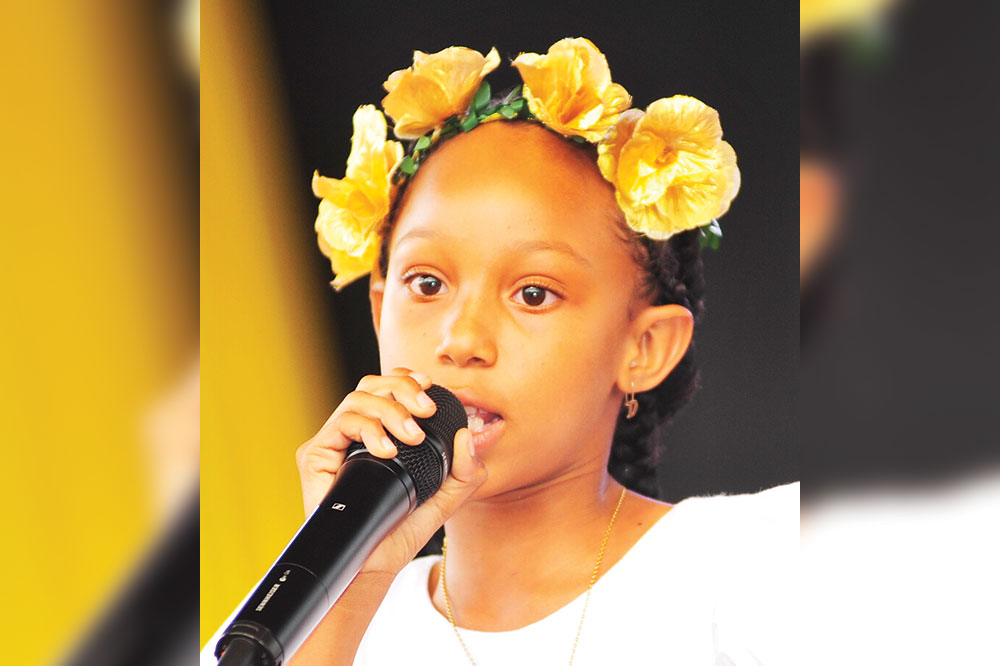 Divine grabs Junior Calypso crown with stellar performance
To win her first ever crown in the primary schools Junior Calypso competition last Tuesday, June 28 eight-year-old Divine Walters drew from her experience of evacuating from her home during last year's eruption of La Soufriere Volcano.
Walters, a student of the Sandy Bay Government School delivered a stellar performance of her calypso titled "Red Zone", which gained her the judges nod and the Junior Calypso crown.
"It feels great…It's my first time (competing)," she told SEARCHLIGHT minutes after being crowned the 2022 primary schools Junior Calypso Monarch.
The song, "Red Zone", written by Mitch Lewis details the experiences of residents in the volcanic red zone communities who had to evacuate their homes just ahead of the start of the explosive eruption of the volcano on April 9 last year.
Walters said this time was particularly sad for her because she had to move from her home and live elsewhere until the government gave the all clear months later for residents to return home.
The youngster told SEARCHLIGHT she loves calypso and especially enjoys listening to her aunt, Dale-Ann Nero's singing.
Walter's aunt, Dale-Ann "Lady Dale" Nero last competed in the secondary schools Junior Calypso competition in 2019 representing the Sandy Bay Secondary School with a calypso titled "Stop Posting".
The newest Junior calypso monarch thanked everyone who supported her and made her win possible.
Deannice Davis of the Calder Government School who sang a calypso titled, "Break the cycle" and Nyla Nero, a student from the Greiggs Government School,who sang "Russian Fire" tied for second place.
A total of nine primary school students took part in the Junior Calypso competition this year.
Other competitors included Aginene Caesar of the CW Prescod Primary School; Desron Williams of the Kingstown Anglican School; and Kristen Warren of the Calder Government School.
Young calypsonians, Kallisa Providence, Shamara Jack and Le Jahnae Hazelwood, all from the Lodge Village Secondary School completed the list of competitors.