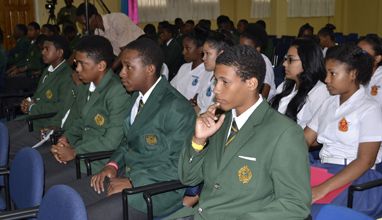 Older persons 'ill-equipped' to advise youth on avoiding Internet pitfalls – Gonsalves
Older persons often paint Internet usage in "too negative a light" and are "ill-equipped" to give experience-based advice on how the nation's youth can avoid the downfalls of navigating the worldwide web and digital technology.{{more}}
This was one of the concerns expressed by Camillo Gonsalves, Minister of Foreign Affairs, Foreign Trade, Commerce and Information Technology at a national symposium hosted by the St Vincent Grammar School (SVGS) Young Leaders on Tuesday, March 24 at the Methodist Church Hall.
"You get a lot of old people, like me, standing up scolding young people about their use of technology… they paint the Internet in too negative a light," he lamented.
"We never had some of the temptations and some of the choices that you have to make because you are all digital citizens, and you are all plugged in… it is completely foreign to us… You guys have tools in your hands that will make you either appear smarter or stupider than you actually are, depending on how you use you tools. We, old people, don't have a frame of reference to understand those implications."
Gonsalves reminded the students in attendance that their online posts and activities will "live on forever" because of the nature of Internet, so they should think carefully about what they are about to do before actually doing it.
He further said that instead of discouraging young people from using digital technology, he is more focused on encouraging young people to use it in ways that are beneficial to them and subsequently, the rest of the nation.
Noting that Internet/digital technology usage is "absolutely critical" to developing SVG, Gonsalves said: "The future of St Vincent and the Grenadines is digital, it is information based, and you are the people who are going to lead this digital revolution and reinvention…"
Specifically, he challenged the students to change from only passively using the Internet (consuming content created by foreigners) to becoming content creators themselves – whether it be in written, audio or video form – so they can create employment for themselves and others, and fuel development.
"If we create all of the things that are needed for nation-building, we would also have to, as part of our digital citizenship, be creating Vincentian products for this digital era."
Gonsalves said that the ways in which the Internet can be used towards nation-building include alleviating poverty, improving access to health care, education, conserving/distributing resources more fairly, and strengthening the nation's participation in contributing to its own governance.
The symposium, which was held under the theme 'Digital Citizenship: responsible navigation, building our nation', invited students from various secondary schools to take part in the event, which saw several members of the business community making presentations based on their fields of expertise.
These included Andre Browne, LIME engineering manager; Corey Garrett, FLOW marketing and communications manager; Jerry George, managing director at Island Media Marketing; Chanyatt Ramsamooj, information and communications coordinator in the Ministry of Education; and a representative from the Ministry of Information Technology.
Remarks were also made by SVGS headmaster Curtis King, and Mikayla Williams, head of marketing and promotions at LIME; and the event was chaired by Lindon Best, 2nd vice-president of the SVGS Young Leaders, and Carmold Murray, SVGS Young Leaders' public relations officer.
The symposium was held in collaboration with LIME, FLOW, the Ministry of Education, the Ministry of Information Technology, and Island Media Marketing.