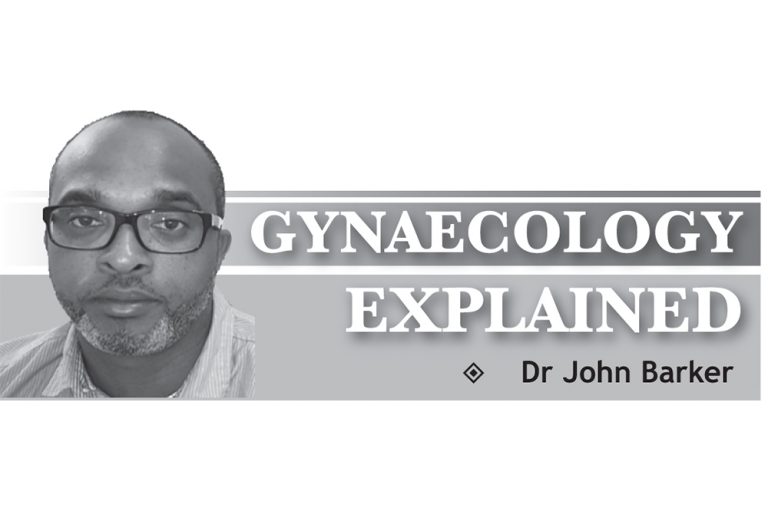 GYNAECOLOGY EXPLAINED
March 13, 2020
Uterine Cancer
UTERINE CANCER IS the 6th most common female cancer worldwide.
The commonest type of uterine cancer is Endometrial cancer whose incidence has increased by around 50 percent. It should be noted that 78 percent of women with adult uterine cancer are predicted to survive ten or more years.
This increase is likely due to increasing obesity, life expectancy and treatment with tamoxifen for breast cancer.
Uterine cancer is the third highest cause of cancer death in women in St Vincent and the Grenadines.
Symptoms Women mostly present with postmenopausal bleeding (PMB). The probability of endometrial cancer when presenting with PMB is 5–10 percent, but 90 percent of endometrial cancers present with post-menopausal bleeding.
An unscheduled bleed whilst on HRT.
Younger women may present with bleeding between periods or prolonged bleeding, often with a background of irregular menstruation.
Women on tamoxifen for breast cancer if they have any bleeding should be referred for outpatient hysteroscopy and biopsy and not biopsy alone.
Diagnosis
• A gynaecological history, a drug history (including use of HRT, oral contraceptive pill, tamoxifen), medical, family and surgical history may be relevant (obesity, treatment for breast cancer, diabetes mellitus, hypertension, and Lynch syndrome which increases risk by 5 percent).
• Investigations include a Trans-vaginal scan (internal scan) to look at thickness of lining of womb to see if the thickness is >4mm or looks abnormal like with cystic spaces.
• If the lining of the womb is equal or more than 4mm then sampling of the lining of the womb
is done with a pipelle aspirate as an outpatient.
• Out- patient hysteroscopy is recommended as part of the investigation as it has a higher specificity for diagnosing endometrial cancer and its associated cost benefi ts when compared to conventional hysteroscopy under general anaesthesia and when combined with biopsy is the gold standard.
• Imaging consists of MRI of abdomen and pelvis and X-ray/CT of chest if histology shows cancer.
• Management is tailored by the multidisciplinary team. Treatment
• Traditionally and open abdominal operation consisting of a hysterectomy and removal of the ovaries and tubes is done for early cases and radical hysterectomy done for more advanced stages, it is now recommended for these patients to undergo Laparoscopic Hysterectomy and removal of ovaries and laparoscopic radical hysterectomy as it is associated with less morbidity and reduced hospital stay.
• Brachytherapy where the vaginal vault is only treated with radiation
• External beam radiotherapy
• chemotherapy in conclusion uterine cancer is on the rise and adequate investigation and early presentation is key to treat and manage this disease.
Gold standard for investigation is by hysteroscopy and biopsy and this is now being offered in St Vincent.
Dr John Barker has completed the Advanced Training Skills Module in Gynaecological Oncology in the UK and runs gynaecological oncology clinics for diagnosis and management of suspected and confirmed female genital cancers.