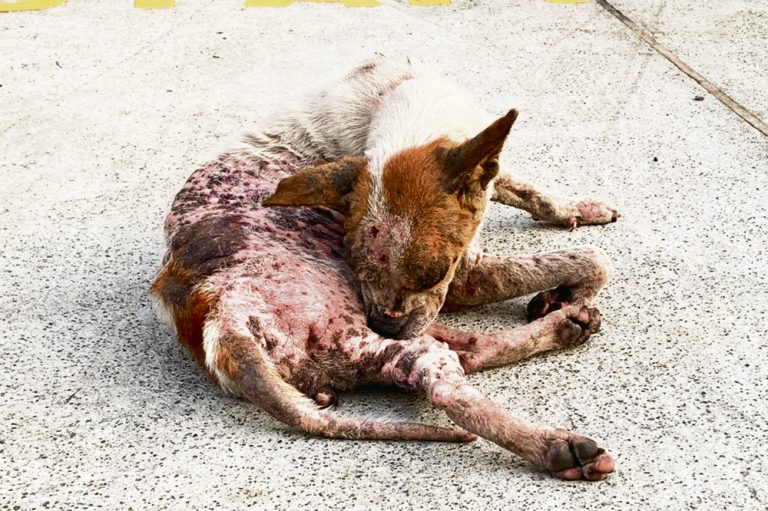 Front Page
February 24, 2023
VSPCA working to tackle rise in stray animal population
Capital city Kingstown is becoming renowned for more than its architectural design and cobblestone streets. Over the past several years, stray dogs and cats have become an identifying feature of the city, an issue which the Vincentian Society for the Prevention of Cruelty to Animals (VSPCA), has been straining their necks to address by way of their Spay and Neuter Clinics.
Clinic Co-ordinator, Jhanice Nelson, told SEARCHLIGHT that although the issue of animal overpopulation affects other communities across the country, Kingstown continues to be the area most severely affected and it has been getting worse.
"… they come out in the daytime. When they know they can get scraps of food. Some are heavily pregnant. Some have a lot of issues, mange. Some of them have broken bones, either been hit by a car or somebody's lashed out on them. It has increased for us dramatically. I get calls almost every day…".
To add salt to an open wound, visitors to the island regularly make complaints to the VSPCA about the condition of the strays they meet while moving around the island. This, Nelson said, puts the island in a bad light.
"It's very hard for them to come in and see emaciated dogs, especially in Kingstown. They're always willing to pay for food and medication but they come in to enjoy themselves. They get very discouraged to come to St. Vincent, they said if they know that this is what the animals look like they wouldn't come in, or they'll say that it has ruined their holiday."
Nelson highlighted the difficulties with conducting a census on the stray animal population, however she noted that the numbers have increased over the last year especially.
"It's very, very difficult to survey stray animals … because people bring animals and they dump them in Kingstown. They'll drive and then just drop them off. The only way we could do that is if we can tag the animals, which takes quite a long time just trying to catch them … but there has been an increase from last year in regards to calls and what we have seen out in the communities, there has been an increase of stray animals."
The VSPCA has been offering the twice-monthly Spay and Neuter Clinics to low-income households in hopes of putting a dent in the stray animal population. But even with the clinics running and getting a favourable response from the public, Nelson said the issue still persists. Mostly due to a lack of education about animal care in communities.
"There would be [fewer strays] if people would have their animals spayed and neutered, so they don't have five females in the same ground, two males and then they inter-breed which is very dangerous."
Nelson stressed that the VSPCA is not a shelter and therefore does not have the resources to take in strays. Instead they depend on support from the communities and organizations to get the animals fed and offer them medical care.
And the issue of overpopulation presents yet another challenge of animal cruelty, a trend which Nelson revealed has been increasing daily in St. Vincent and the Grenadines. In addition to starvation, poisoning and animal neglect, she highlighted cases of violence such as chopping and beating which have been carried out against dogs, both owned and strays.
"It's almost every day, people would call [to say] the neighbour dog has been tied for days, it's pouring with rain, there's no shelter; or there's a dog there and they can hear that the owner is beating it. You know, it just goes on and on and on."
Nelson thinks there needs to be a multi-sectoral approach to improving the care of animals on the island.
"We need to get communities to be responsible. We need to get the government to take part in what we're doing. We're only three staff here [VSPCA] and we're non-profit so we don't get any kind of support."
RELATED ARTICLE: Medical students volunteer at VSPCA