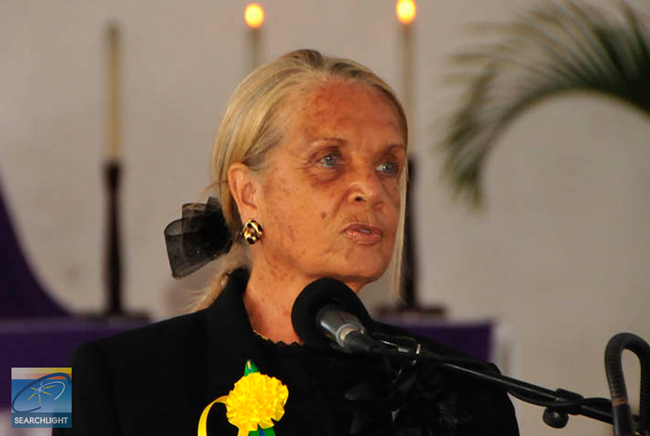 Tribute
December 22, 2021
Tribute by Janice, Lady Compton to Sir James Mitchell
Tribute for The Rt. Hon. Sir James Mitchell, KCMG, PC
St. Mary's Anglican Church, Bequia, Saturday, 18th December, 2021 Janice, Lady Compton
There are many persons who will speak today about the different aspects of Sir James Mitchell's life and of his amazing contribution to the development not only of SVG but also of the wider Caribbean and especially the Eastern Caribbean and so I shall speak a little of his enduring friendship with my husband.
When my husband, the late Sir John Compton, passed away among the many messages of sympathy I received was a short but very touching letter that has stayed with me. It was from Lee Kuan Yew, the late Prime Minister of Singapore. Harry Lee, as we knew him, had studied in the UK around the same time as John. Harry's letter would speak of how "our common Colonial heritage made for good friendships". And so it is, in similar vein, in these small islands where our stories are so interwoven, our stared histories have created these ties that bind us together.
Son Mitchell and John Compton were friends to the end.   They grew up in the Grenadines knowing the hardships of life in these islands but they also grew up loving the sheer beauty of them, loving the strength and determination and togetherness of those who never forgot that these little gems are the place where their navel strings are buried.
John would end up living in St. Lucia and make his main contribution there, but he never abandoned SVG, returning time and again to revel in the pursuits of his childhood – swimming, sailing, fishing and the camaraderie he enjoyed here.
Their early shared experiences would stand them in good stead in the years that followed and would influence them both in their roles as Prime Minister of St. Vincent and of St. Lucia.
Son and John shared another history as well. In the first part of the 19th century Sir William Snagg, who owned Carenage Estate in Canouan, brought out a gentleman from East Meon in Hampshire in the UK to teach ship building. His name was Benjamin Compton. He would teach ship building from Anguilla in the north to Carriacou in the south. One young gentleman from Bequia would go to Canouan to learn from him – his name was William Alexander Mitchell and he would fall in love with Benjamin's daughter and marry her and so began this rich history of boating and boat building that the Mitchells and the Comptons are so well known for.
In the ensuing years Son and John never lost their love for a nice sail. At one time they, along with Son's brother Reginald, owned a yacht together named Colibri- which was then sold for a bigger one, Sapphire. In these casual times together it was possible to share their dreams and hopes for these islands and to plan how they could make a difference. Sometimes they were joined by The Most Excellent, The Rt Hon Errol Barrow, then Prime Minister of Barbados. I can remember them racing in the Carriacou Regatta one year. What a crew! On these occasions Dipper Barrow, as he was commonly known, was the cook – and gourmet cook he was – for that was one of his passions!
On another occasion I recall them meeting in Petit St Vincent with The Hon. Eric Gairy, then Prime Minister of Grenada, to discuss freedom of movement, the first steps in their dream of political union and eventual OECS unity – something about which they were so passionate .
In later years, along came Dame Eugenia Charles from Dominica and Dr. The Rt. Hon. Sir Kennedy Simmonds from St. Kitts and they all became firm friends.
Eugenia, Son and John were all born under the sign of Taurus, in fact Son and Eugenia shared the same birthday. It made for a strong and lasting friendship between the three because they understood each other and their goals for these islands were similar – in the words of the late Cheddi Jagan – 'towards one common goal of democracy, regional integration, unity in diversity and social progress".
Together, they crisscrossed Europe to explain the plight of our bananas, fighting the might of the Latin American lobby and some European countries. They weighed all the problems of the OECS together, as they did when Grenada and Guyana went through their terrible trials, and they worked together to support developmental projects in their respective countries. So strong was their bond that Son could say that their faith and confidence I each other allowed them 'to trust the destinies of our respective countries to the hands of a colleague'.
After Eugenia's retirement we all headed to Dominica to attend a dinner in her honour and I recall a young lady singing a song explaining that OECS meant 'Only Eugenia, Compton and Son'. I always added Kennedy Simmonds to the 'S'! To quote Son 'One of the greatest things we have going for us in the Caribbean is the fraternity among the leadership'.
Son would also say in those years that (and again I quote) 'people will look back on these years as the halcyon days of the OECS'.
It was a time when we had less but we had much more simply because we had more time for one another, were more respectful of one another, when we seemed more responsible and giving rather than endlessly demanding rights that should be earned.
When John and I married we decided to sail to Bequia for our honeymoon. The weather was foul and at daylight we discovered that we had passed Bequia and that she was to starboard, a distance back . Son had, as a mariner would, stayed up the night to check to see if we had arrived. How idyllic Bequia was – and still is! The only vehicle on the island was Geoff Wallace's Land Rover and he used to drive along the beach at Frangipani on a morning. You could leave your house open and go out because everything would be safe. In those days I got to know Son more as we sailed to Mustique and spent time together. In the years that followed he would arrive at our house with little kind gifts into which he put so much thought – a jacaranda plant or one time he arrived with a coffee table and beamed with pride that it was made by Vincentian craftsmen – for he was always so proud of his Vincentian people and of their ability.
His friendship with John would continue long after John retired as Prime Minister. They would speak frequently. As a matter of fact, we almost missed our last flight to New York because John was on the phone to Son! After John's passing, Son continued to look out for me.   It is something I shall never forget – his words of advice, his endeavours on my behalf, his WhatsApps to keep in touch.
One thing is certain, he loved his St. Vincent & The Grenadines and the people St Vincent with a passion. His last WhatsApp to me was to celebrate St. Vincent's Independence Day on October 27th.
Son's other passion was his children and grandchildren. He always glowed with immense pride whenever he spoke of any of them. I never, ever heard a word of criticism, regret or disappointment when speaking of them.
Today we are here mourning this terrible loss but today we must also celebrate his life and his untiring efforts and achievements on behalf of these islands, the fruits of which we all enjoy. Today we give thanks that he came and touched our lives and we know that his legacy will long remain with us because it is all around us and cannot be encapsulated in a simple obituary.
In closing I would like to borrow a few words from Henry Wadsworth Longfellow:
Lives of great men all remind us We can make our lives sublime And, departing, leave behind us Footprints in the sands of time
Footprints, that perhaps another Sailing o'er life's solemn main
A forlorn and shipwrecked brother, Seeing, shall take heart again.
Let us, then, be up and doing, With a heart for any fate;
Still achieving, still pursuing,
It is what Son would wish of us – Rest in peace, my friend