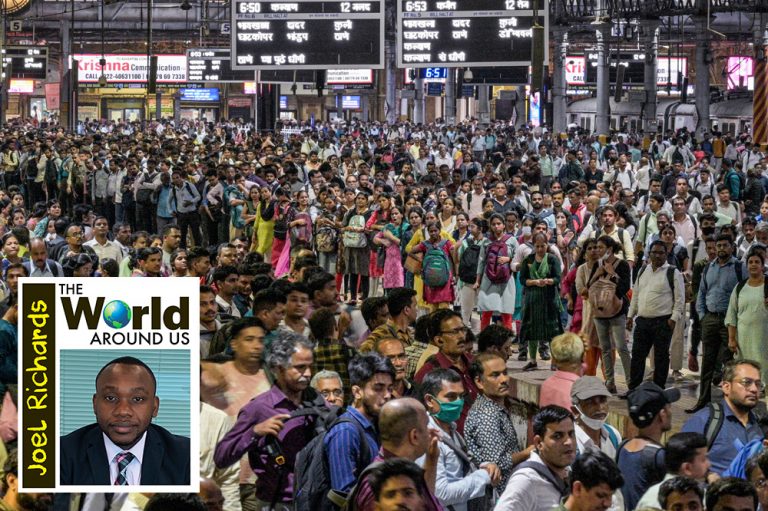 The World Around Us
April 28, 2023
Is India the Next Big Thing?
Based on the projections in the United Nations Population Fund's (UNFPA) "State of World Population Report" for 2023, India's population by the middle of this year will surpass that of China's by 2.9 million people. With a Gross Domestic Product (GDP) of US$2.65 trillion, India currently ranks as the world's fifth largest economy. India also accounts for 3.2 percent of the world's economy.
By comparison, China has the second largest economy and also accounts for 15 percent of the global economy. Therefore, while India will soon surpass China by population? It still has some distance to go to catch up with China economically.
Nonetheless, India appears to be primed for take-off in a number of ways. As tensions ratchet up between the United States (US) and China for example, some global firms, such as Apple, are already shifting some of their production to India to account for geopolitical risks. India enjoys a growing young population, technology skill sets in the labour force and cheap and abundant labour which also make it a lucrative destination for some of the world's largest companies.
Against the backdrop of the growing US-China rivalry, countries and companies need to hedge their bets with respect to reliable access to global value and supply chains. As India seeks to project itself down the middle geopolitically, it stands to benefit from investments from companies which are seeking to diversify away from China.
India is also entering a phase where it is likely to achieve a very high level of digital industrialisation. Pekka Lundmark, the Chief Executive Officer (CEO) of Nokia, a Finnish multinational telecommunications company, recently made a telling assessment of digital industrialisation in India.
According to Lundmark, India is systematically building out its digital ecosystem, digital identity for its large population, digital payments infrastructure which is making the society increasingly cashless as well as the most ambitious and the fastest 5G technology rollout in the world. For Lundmark, these factors are all building blocks for future economic growth for any country and India is currently ahead.
In a report last October, the global management consulting firm – McKinsey & Company, earmarked India as being on track to become a global powerhouse. According to McKinsey & Company, India has one of the fastest-growing economies in the world, the third-largest start- up ecosystem, and tech services, digital, and manufacturing sectors which have the potential to be world beaters.
Malcolm Scott, writing for Bloomberg in January, stated this is the age of India and that the country's moment has arrived. Scott feels that India can cash in on its demographic dividend as the world's most populated country if its education and infrastructure investment can maintain pace.
Furthermore, in a speech last August commemorating 75 years since India's independence, President Modi urged the nation to settle for nothing less than to "dominate the world."
According to Modi, Indians "must resolve to make India a developed nation in the next 25 years."
Of course, India is not without its challenges. In many respects, it remains a very poor country with a GDP per capita of US$2,256.59, based on World Bank figures. While it has lifted 415 million people out of poverty over the past 15 years, the incidence of poverty, especially in rural areas, remains high. Therefore, there is still a significant amount of work to do internally to transform India in a manner which would allow it to project itself more powerfully on the global stage.
However, India is likely to play a major role in the global economy and in global political affairs in the decades to come. This calls for companies around the world to rethink their global business practices, including their sourcing patterns, trade and investment. Governments too must think about realigning their foreign policies to account for India's emergence.
Joel K Richards is a Vincentian national living and working in Europe in the field of international trade and development. Email: [email protected]