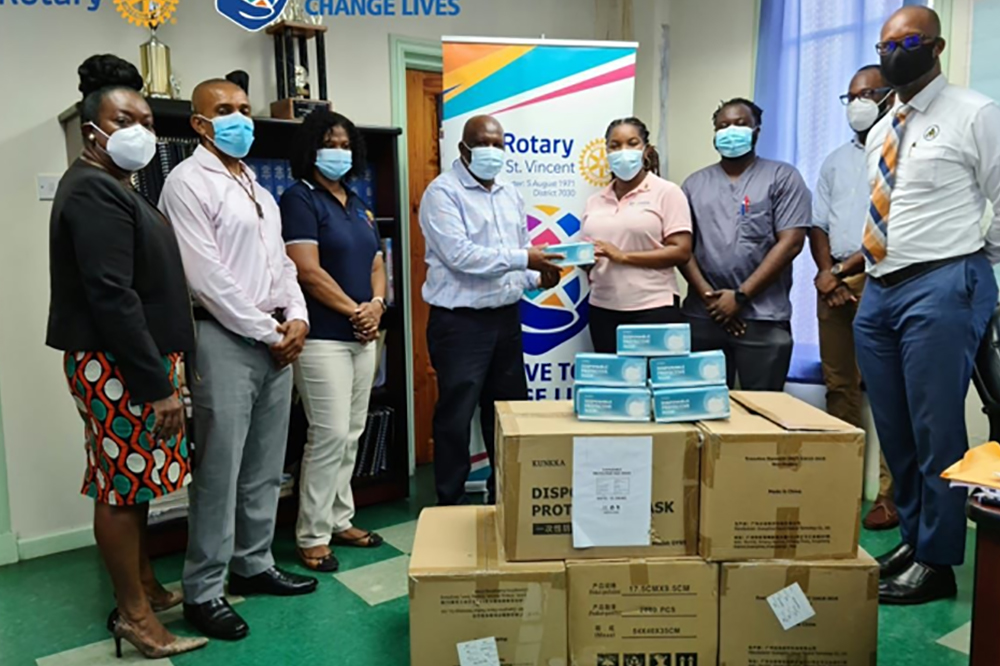 Press Release
July 30, 2021
AdventHealth Hospitals donate masks via Rotary
The Rotary Clubs of St. Vincent donated 300,000 masks to the Ministry of Health, Wellness and the Environment on Monday July 26 from AdventHealth in Florida. The masks were handed over by Dr. Janelle Allen, president of the Rotary Club of St. Vincent who was accompanied by Immediate Past President (IPP)Annette Mark and Secretary Felicia Cumberbatch, a Rotary release states.
Wanting to provide relief to St. Vincent and the Grenadines (SVG) as a result of the 2021 volcanic eruption, AdventHealth decided to donate the masks, which included N95 masks, for hospital workers. They recognised that the disaster would lead to health care workers facing a greater risk of exposure to the Covid-19 virus and there would be a need for increased protection. Through their representatives Ray Moe, and director Monty Jacobs, AdventHealth reached out to the chair of Rotary's District Disaster Relief in Barbados David Edwards, who organised and made arrangements with District Governor nominee . Brian Glasgow and IPP Annette Mark to ship, receive and hand over the masks.
Minister of Health, Wellness and the Environment, St. Clair Prince thanked the Rotary Clubs and AdventHealth for their generous donation and acknowledged that the masks would go a long way in providing protection for the front-line health care workers.
Also, present at the hand over on Tuesday were President of Rotary Club of St. Vincent South Bantu Campbell; their Director of Public Image Kurt Dougan; as well as the President of the Rotaract Club of Kingstown, Dr. Franke Joseph.