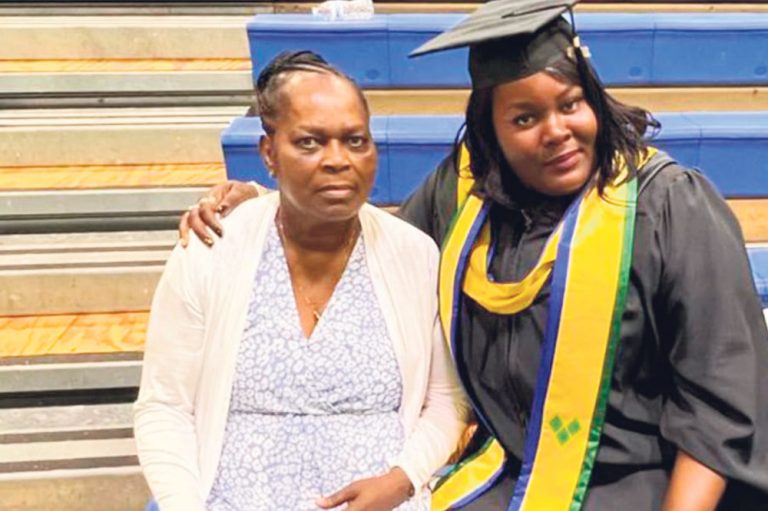 US-based Vincentian making strides in the field of Criminal Justice
A Vincentian currently residing in the United States of America (USA) who has recently earned a Master's Degree in criminal justice said she did it not only for herself, but also for her mother.
"My mother was my inspiration," Verselyn Edwards told SEARCHLIGHT recently in an interview.
Edwards, who is originally from Princess Street, Georgetown, is the daughter of Glennis Edwards, who also now resides in the USA.
Verselyn graduated from Westfield State University on May, 17, 2023. She had also obtained her Bachelor's Degree in Criminal Justice in 2019.
At present, she works with the department of youth services in Springfield, Massachusetts.
The young Vincentian is also a social worker with the department of children and family.
Verselyn migrated to the USA ten years ago and continued with her quest for knowledge and education nurtured at the Georgetown Government School and built on at the St Vincent Girls High School.
She grew up in Georgetown with her mother whom she says is her main source of inspiration.
"I grew up seeing my mom working hard. When I was going to GHS, she tried to provide as much as she could," Verselyn said.
"She was not working for a lot of money, but she made her sacrifices to make sure that I had a good education."
Verselyn, who is the second of her mother's three children, said her mother did a good job at raising her and gave her a good start in her education.
" I used to always say to myself when I get older, I don't want to be in the same position as my mom, working so hard to make ends meet."
The former Georgetown resident continued, "I saw her struggle when we were growing up, and I did not want the same for myself."
Although she now lives in the USA, Verselyn has remained attached to her roots in Georgetown and tries to return home at least once per year.
And as people continue to grow and develop themselves, Verselyn is encouraging them to always remember their past.
"Look at where you're coming from, and never forget that."
And, in difficult times when some might want to give up on their dreams, the young woman is encouraging others to persevere as she again gave accolades to her mother.
"I thank my mom for raising me as a strong female," Verselyn commented.
Apart from being strong, she also considers herself as independent, determined, and full of perseverance.
Verselyn wants the young people in St Vincent and the Grenadines to know that there is hope, and education is still the best way out of poverty.
"An idle head is the devil's playground. Work hard and try to elevate yourself.
"Life was not easy, but I was determined, and my mother was my inspiration," she concluded.