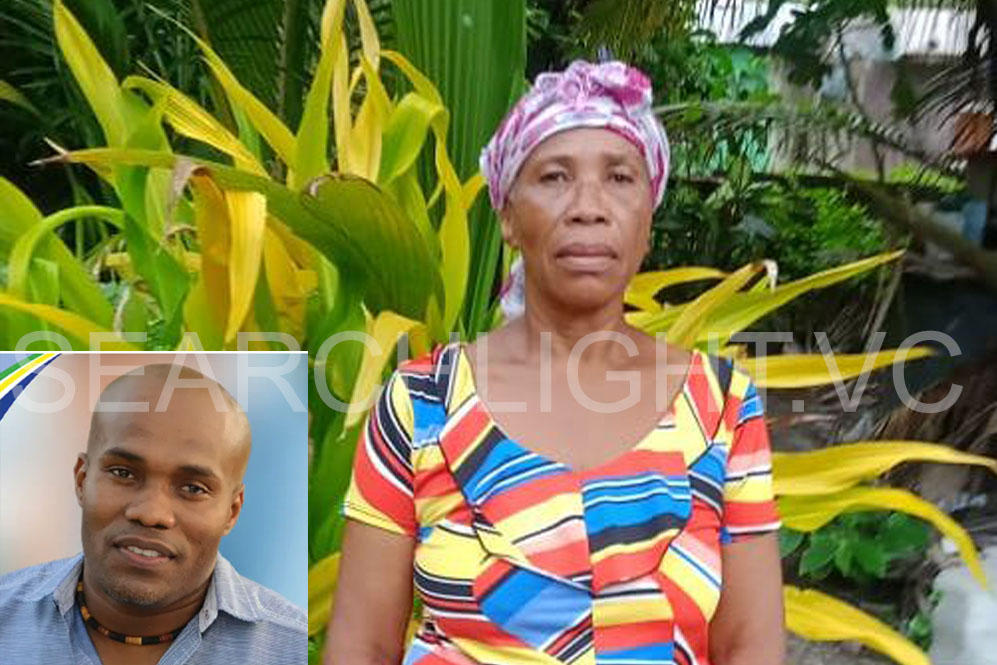 Mother of murdered banker not satisfied, still distressed
The mother of murder victim Randy Lawrence who was shot and killed at Arnos Vale on February 14, 2017, is still crying for her son.
"I want my son back, just give me Randy back; that is the only way I will be satisfied."
These were the words of Hyacinth Lawrence, as she spoke in an exclusive interview with SEARCHLIGHT on Saturday March 11.
Lawrence was reacting to the sentence of life imprisonment given to Junior Jarvis, who was convicted of murdering Randy Lawrence, a former banker.
Jarvis, a former journalist was convicted of the crime in November 2022 and was sentenced on Friday March 10, 2023.
The mother, who is still very emotional about the killing told SEARCHLIGHT that the only time she will be satisfied, is when she sees her son again.
"Anytime I see Randy in front of me; that I will be able to hug him, I will feel good."
"If anybody could give me back Randy, I will be okay; but right now I am still not okay," the weeping mother stated.
Lawrence, who resides in the North Central Windward constituency, recalls that she "almost went crazy" when she heard that her son Randy had been shot and killed.
"Randy was not sick, and just like that, he lost his life for nothing, just like that," she lamented.
The day before he was sentenced, Jarvis read a letter in which he asked for forgiveness.
However, one day after he was sentenced to life in prison, Randy's mother asked: "How can I forgive? He is the one who has to go and find the person he killed and ask for forgiveness."
"He never asked me for forgiveness and not me have to forgive him."
"Let he go find my son and ask for forgiveness."
Randy was the first born of her four children and as far as she is concerned, "nobody will be able to walk in his shoes."
"There is still a void in my life because of Randy's murder."
"So even if they hang Jarvis, I still won't satisfy. Never!"
"I know what I lost and my loss is greater than whatever punishment they want to give Jarvis."
"All I want is to have my son back."
The grieving mother said she was advised not to attend court for Jarvis's sentencing, so she was not present when Justice Brian Cottle handed down the life sentence to him.
"I feel that justice came for Randy's daughter, she keeps asking for her father.
"She wants back her father."
"For me, there is still no closure, Jarvis is just doing time, they are going to feed him."
"My son is rotten, my son is in the grave, and I can't see my son again."
"My son did not deserve this kind of death, he did not deserve it at all."
"I am not happy. Even if they hang Jarvis, I am still not happy."
"Can that bring back my son for me?"
"Although Randy was a married man, Randy did not leave my life," Lawrence said.
She remembered that Randy called her very often to make sure that she was okay, and also assisted her financially.
The unemployed woman said that life for her has become very challenging for her, since Randy was killed in 2017.
"Life is hard for me."
"Nobody knows how I'm eating."
"Nobody knows how I'm surviving."
"Is friends and relatives helping me out."
"I don't eat chicken and many other things; because I can't afford them, and I still have my bills to pay."
"Nobody knows what I am going through."
Lawrence said that even her health is declining since the death of her beloved son Randy.
"I never had high blood pressure before, but this death give me pressure, now I am hypertensive and I have to take two sets of tablets."
"Now my head hurts me from back to front always."
Lawrence feels that the murder of her son Randy Lawrence is a crime which has turned her life upside down.
She is appealing to persons with criminal intent to "think about the families of your victims."
"The mothers are the ones who feel it the most."
In handing down the life sentence on Friday, the trial Judge said the murder of Randy Lawrence was premeditated and unprovoked on that fateful day in  2017.