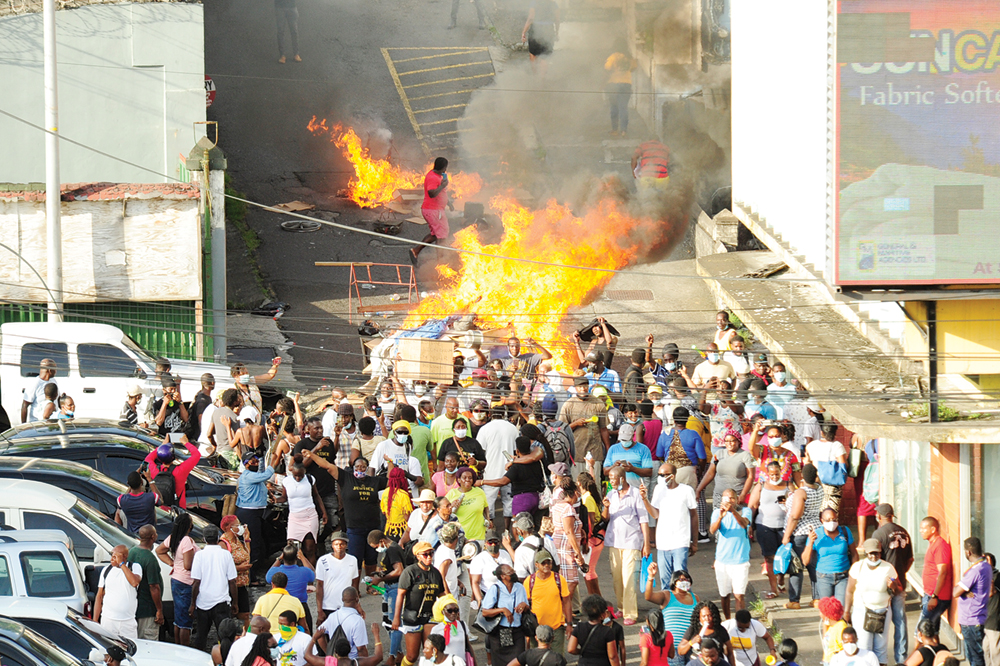 Opposition leader says he regrets attack on PM
LEADER of the Parliamentary Opposition, Dr Godwin Friday said he regrets the attack on Prime Minister Dr Ralph Gonsalves.
The Prime Minister was struck in is head with a missile resulting in him having to seek medical attention at the Milton Cato Memorial Hospital (MCMH).
The opposition leader said the act of violence against Gonsalves is regrettable.
"I do not encourage violence in any action that I am involved in. I do not support any act of violence against any member of this honourable house or any person," he continued.
" I defend anyone's right to defend their democratic principles. It is not my way…" the opposition leader said.
Friday continued to express his disapproval and disavowal of any act of violence during protest action and he requested the Deputy Prime Minister, Montgomery Daniel to update him on the status of the Prime Minister.
"That is no pretence and no withdrawal or changing of any position. That is the way I conduct my business…It is not a trite matter; it is not a small matter and I wish that to be registered in this Honourable House. We will continue to do our work and do it to the best of our ability."
"I don't believe any protester, any policeman, any politician's life is worth a protest on the street of St Vincent and the Grenadines, however well-meaning they are," he said. Yesterday's protests outside the House of Assembly included members of the Public Service Union, SVG Teachers Union and supporters of the New Democratic Party, who all came together to express their disapproval of amendments to be made to the Public Health Act.
Member of Parliament for Central Kingstown, St Clair Leacock, joined Friday in his comments and noted further that if he were the Commissioner of Police he would have done a better job at protecting the Prime Minister. He also chastised the members on the government benches for chasting the opposition MP's.
"It is disingenuous for the Unity Labour Party to lay claim to an objection. In fact, they repeatedly celebrate in this country, what they call the roadblock revolution when children were born in the streets of St Vincent. When ambulances couldn't get to the hospital so we could go on and on and on because there is enough blame to be shared," Leacock said in Parliament, after listing several examples of violent protests that have taken place in SVG.
He also noted that his colleague and parliamentary representative for West Kingstown, Daniel Cummings was currently in Trinidad, trying to recover from injury to his neck, back and arm – a consequence of being physically thrown out of Parliament by Police, under similar circumstances.
Leacock noted that protests, even of a robust nature, were a part of this country's democracy.
"That said…I do not take kindly to the physical injury to the Honourable Prime Minister but as firmly as I address that regret, that remorse, and with all of the sincerity, I am saying to you Madam Speaker, if I was the Commissioner of Police today in St Vincent and the Grenadines, I would not have allowed the Prime Minister to alight his vehicle at the point of the Coreas trading where there's an angry crowd and to walk… outside of his vehicle where he is sheltered and protected, through that crowd, into the Parliament building."