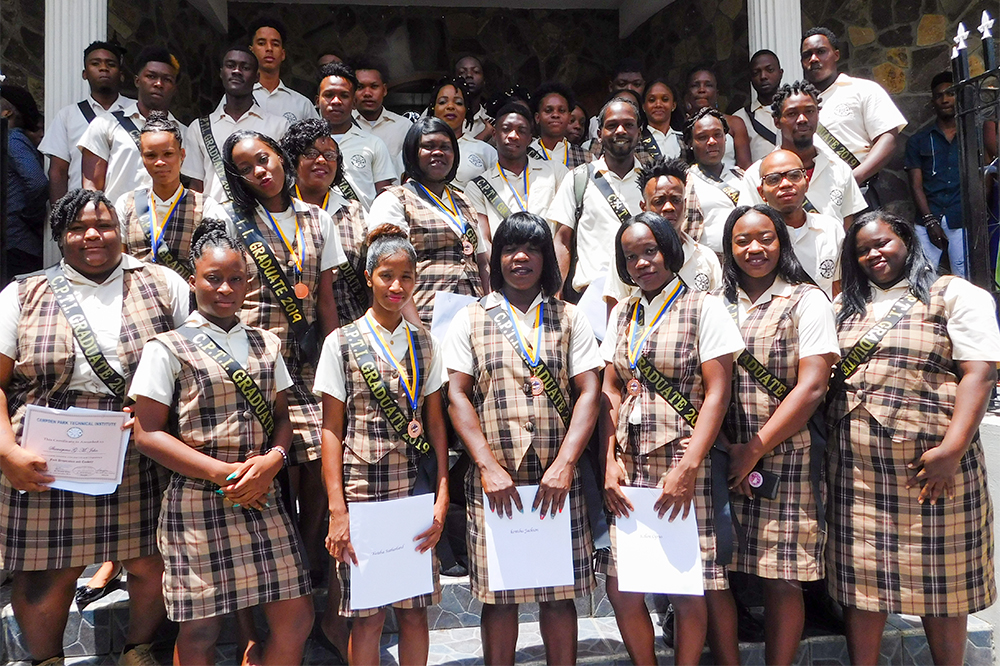 40 graduate from Campden Park Technical Institute with Level One Certificates
Almost 40 young professionals have graduated from the Campden Park Technical Institute this year, ready to tackle the working world with level one certificates in several different fields.
The graduating class of 2019 was honoured at a ceremony last Friday at the Apostolic Faith Mission Church, where they received a number of awards and praises for the work they put in over their time at the institution.
David Penniston, principal of the Institute opened the graduation ceremony with a report of the school and this year's graduating class.
"We have seen growth and positive changes in many of you," Penniston said in his report. "You are now much better prepared to enter into the world of work and to be productive citizens of St Vincent and the Grenadines."
Penniston told graduates there there are three things that would help to steer them throughout life, should they wish to use them.
He told them to have a vision, set goals that align with the vision and stay focused.
Graduates received certificates in Data Operations, Food Preparation and Cookery, Electrical Installation, Food and Drinks Service and Welding.
Paul Creese, who has extensive experience in vocational education, was the feature speaker at Friday's ceremony.
He said that the day was important for graduates to reflect on their accomplishments and to think about their future.
"First, you need to become a valued worker and a professional and secondly, you need to become a better person, a better citizen of St Vincent and the Grenadines and a better community member," Creese told graduates.
And he said this is because the company looking to hire, is not just looking for someone to do a specific job.
He said that a company is looking for skills and opportunities to grow competitive and customer friendly.
"The skills and opportunities that the companies are looking for, are in you. They are in you," he said. "So as you go from here with your certificate of technical competence in your hand, you need to ask yourself this question; 'Am I the opportunity that a company is looking for?'"
The valedictorian of this year's graduating class was Eddika Peters, a student from the Data Operations course.
In her brief remarks, Peters reflected on the time she and her classmates spent at the institution and the assignments and activities they had to complete to gain their certificates.
"Yes, we did it. But it would not have been so without the help of our teachers, for the skills they taught us…" she said. "We know that many times we have tested your patience and faith, but thanks for the temperance, love, concern…you gave your all everyday to provide us with tremendous education."
The valedictorian further praised teachers for pushing her graduating class to do their best while taking the time to build meaningful and lasting relationships.
To the graduates, she said that they had completed a milestone in their lives that should be recognised.
Quoting Dr Seuss, Peters told her fellow graduates that "after this day, we decide what happens next in our lives. We no longer have our instructors to give us that extra push…"
And she hoped that everyone had made the most of the experience and utilised their skills well in the future.
Victoria Alexander, a representative from the Ministry of Education, Endall Johnson, the senior education officer for Technical and Vocational Education and Training and Kenroy Charles, the director of the National Qualifications Department (NQD) also gave remarks at Friday's ceremony.