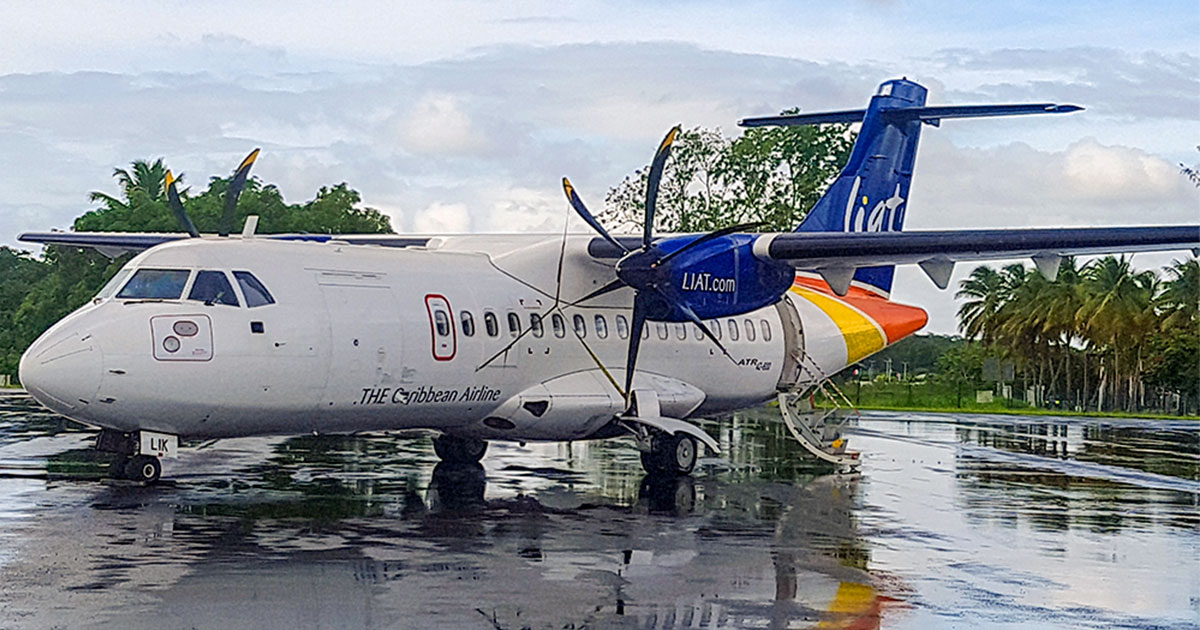 Barbados to reduce its financial involvement in LIAT
The Barbados Government will be giving up some of the major shareholding it has held since the regional airline's inception 45 years ago, Prime Minister Mia Mottley revealed in a Ministerial Statement last week.
She told the House of Assembly Barbados remained committed to the cash-strapped airline, but would be scaling back from its current share value of 49.4 per cent.
A negotiating team will decide the eventual amount of shares to be offered to the government of Antigua and Barbuda, where LIAT is headquartered.
Mottley said the time had come for Barbados to "take a step back" from its current part-ownership due to LIAT's flawed business model.
"The model was not an attractive model. What is needed is significant restructuring," she told parliamentarians. "Indeed, a new model of governance, a new financial model and a new operational model is needed for LIAT to extract greater benefit, and provide the services which it does."
The Prime Minister, however, added that Barbados was not leaving the airline out on a limb.
"The Government of Barbados is not turning its back on LIAT. We continue to be committed to LIAT, and will maintain a minimum shareholding should we reach an agreement for them to take over our shareholding, and we will provide a minimum revenue guarantee on any route that is uncommercial or unprofitable, while recognising the majority of routes that Barbados is involved in are in fact profitable."
Mottley's statement was not unexpected, as three weeks ago, Antiguan Prime Minister Gaston Browne revealed during a radio show that he had sent a proposal to the Barbados Government regarding the sale of most, if not all, of its shares in LIAT, and that Barbados had agreed to relieve itself of all but ten per cent of its shareholding.
A week later, chairman of the shareholder governments in LIAT, Prime Minister Dr Ralph Gonsalves of St Vincent and the Grenadines, said any meeting of the shareholders would be delayed until July, as Barbados and Antigua negotiated the final number of shares to change hands.
Also on Monday, Mottley said Attorney General Dale Marshall would lead the special Barbados negotiating team to do business with Antigua, and that would be done in a few weeks.
"There is only so much Barbados can responsibly do at this time, given our current circumstances. Notwithstanding our absolute commitment to regional air travel, given the fact studies had recommended a different model, and given the inability to do in the next five to ten years what the Government has done in the last five to ten years, we have taken the determination that it is time for us to step back, while at the same time allowing other governments to continue with their proposal to want to restructure LIAT in the way in which they have determined."
The Prime Minister said the decision to scale down had a lot to do with studies done on the viability of LIAT.
"We as a Government were persuaded by those studies, and continue to be. But we are not the only shareholder government. There are others – and no matter what we've said, or how much we've tried to impress upon them – who believe there are better and different ways in order to secure the viability of the airline."
Mottley added that Barbados had recently sent $1 million to LIAT and also satisfied its commitment to the Caribbean Development Bank with respect to the re-fleeting of the airline.
(BA – NationNews)