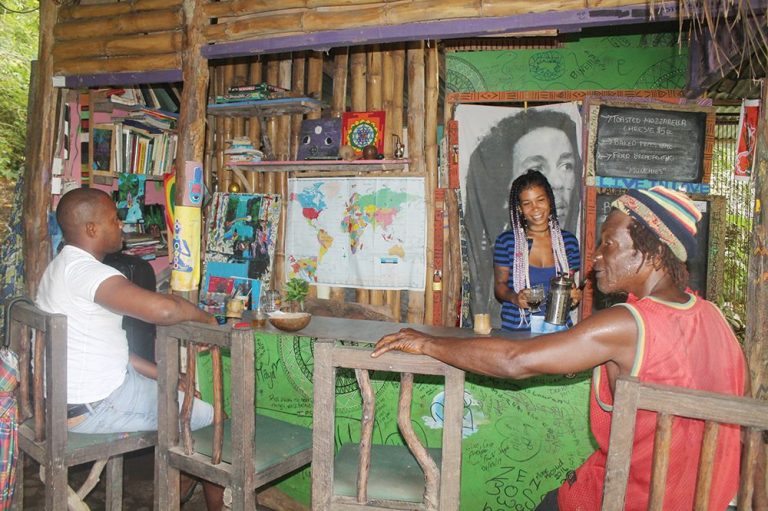 Local Vibes
August 8, 2017
Escape to Bush Bar and leave the hustle and bustle of the village behind
by Bria King
If I didn't pay close attention, I might've missed it.
Nestled into the lush greenery of the mountains surrounding the Vermont Valley is Bush Bar, a home away from home for locals and visitors alike.
The cool air that caressed my skin as I stepped onto the unpaved pathway leading to the bamboo bar was proof that I had left the hustle and bustle of the village behind.
And that was the reaction that Zenique Michell Punnett, the owner of Bush Bar, said that she wanted all of her customers to have.
"I believe in the green tourism and the rivers, the mountain tourism", the owner, who is popularly known as Zen, said. "We have parrots up here, we're right next to the Vermont Nature Trail and you can walk over to Table Rock."
Bush Bar, located at Queensbury, Vermont, stays true to its name, as it is surrounded by an array of flora and fauna, which add to its relaxing and inviting charm that draws nature lovers from far and near.
In addition to its bamboo structure, the high stools at the bar pay homage to the branches of trees that were used to make them.
And customers can sway feel-good reggae tunes, all while enjoying artwork created by Zen herself that hang all around the seating area.
As a firm believer in all things organic, Zen offers vegetarian cuisine to her customers, prepared in an authentic yabba pot, the herbs and spices having been picked right from the compound on which the seven-year-old establishment sits.
"The environment just chills you out and people come and play scrabble, monopoly, whatever board games. And you're just hanging out with your friends and meeting new people," the owner said.
This, she explains, is one of the most satisfying experiences of operating her establishment for the past seven years, having persons from all walks of life coming together and interacting in the purest of ways.
But the 31-year-old has much more in store for her business, as she has plans to become a healing resort, for tourists as well as locals.
Already, Zen has bamboo bungalows hidden in the bushes on the large expanse of land.
Persons can experience a cozy and rustic vibe in the bungalows, showering in a bath that features a wall made from recycled wine and rum bottles.
"I want to get bigger, but I'm going to keep bamboo, I'm going to keep stone, keeping it rustic. If it's anything, I want to get thatched roofs," she said.
Currently, Bush Bar has no set opening hours, but can be open as late as 10 p.m.
And customers who want to indulge in vegetarian cuisine can make a call to the proprietor, who is friendly and ready to accommodate requests.
For persons wishing to make a visit to the jungle getaway, Zen is just a call away at 1(784) 491- 8127.