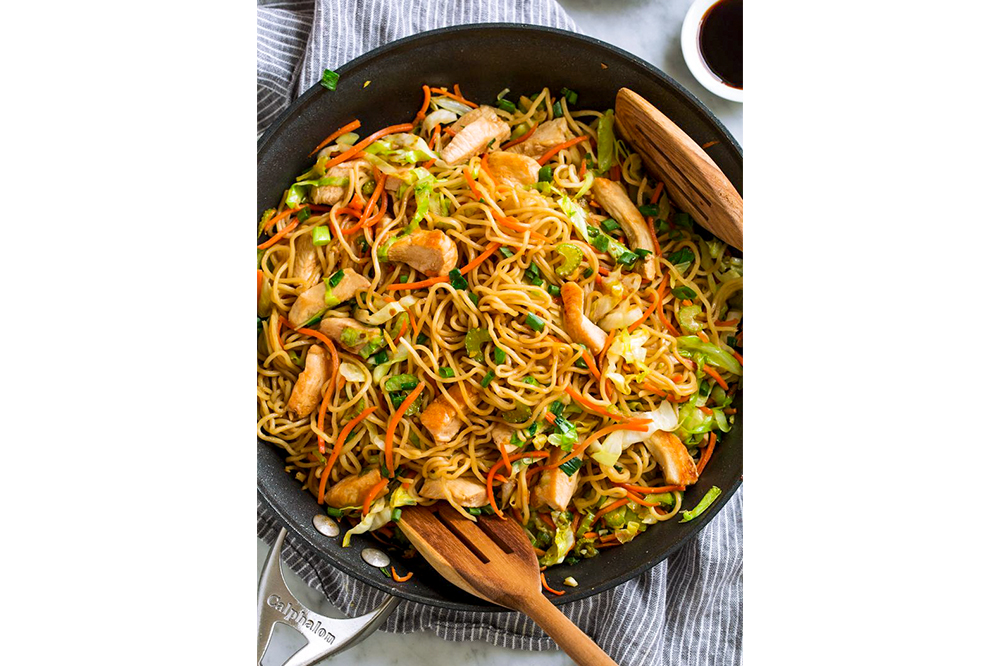 Kitchen Corner
June 25, 2019
Homemade Chicken Chow Mein
You will need:
1 pk chow mein noodles
1 lb chicken breasts, sliced into 1/2-inch thick strips
1 cup thinly sliced celery (3 stalks, optional)
2 Tbsp oil
3 cups thinly sliced green cabbage
1 1/ 2 cups thinly sliced carrots
1/2 cup chopped chives
1 large onion chopped
2 tsp minced ginger
2 garlic cloves, minced
4 Tbsp low-sodium soy sauce,
1 Tbsp oyster sauce (or more to taste)
1 Tbsp granulated sugar
1 1/ 2 tsp sesame oil
All purpose seasoning
Green seasoning
Method:
Prepare noodles according to directions on package. Cut meat into pieces and add a small amount of green seasoning and all purpose seasoning. Be careful not to add too much all-purpose seasoning as it has salt. In a bowl, whisk together soy sauce, oyster sauce, sugar and oil, set aside. Heat oil in a wok or large and deep non-stick skillet over moderately high heat.  Add chicken (working to leave a little space between pieces so they'll brown) and cook 3 – 4 minutes, turn and continue to cook until cooked through, about 2 – 3 minutes longer. Transfer to a plate or sheet of foil.
Reduce heat slightly add remaining 1 Tbsp oil in skillet; add celery and sauté 3 minutes.  Add cabbage and sauté 2 minutes, then add carrots, green onions, garlic and ginger and sauté 1 – 2 minutes longer, until veggies are all crisp tender. Toss in noodles and chicken then pour soy sauce mixture over top and toss to coat. Serve warm.
Tips: 8 oz dry spaghetti (thin or regular) will work great too. Chicken thighs can be used also. Cook a few minutes longer as needed. Sweet and sour sauce can be used while eating as well.