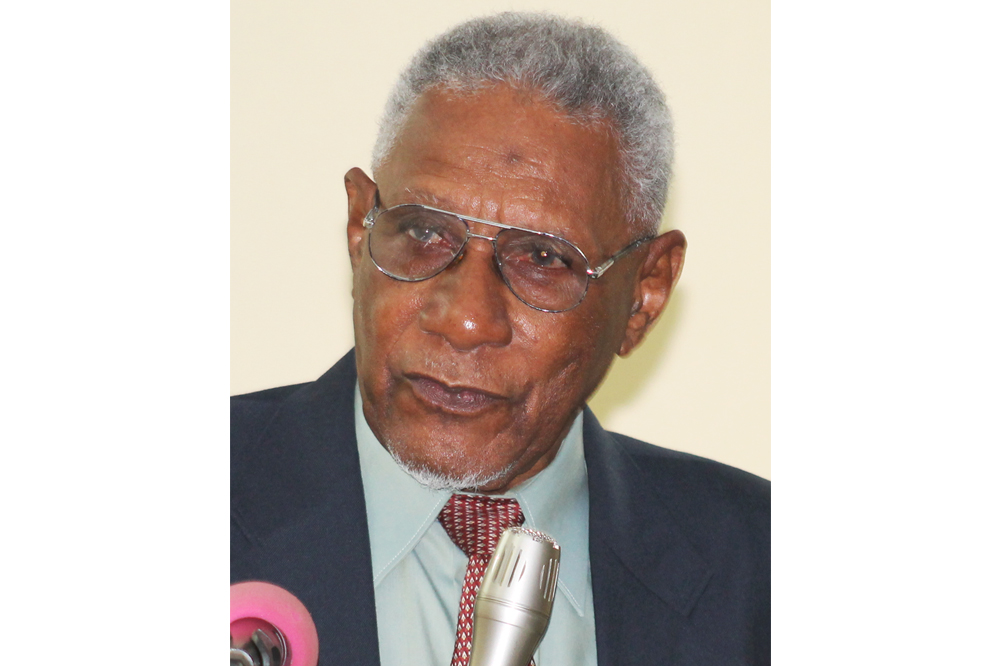 Front Page
August 6, 2019
He has served the country very well – Deputy PM
Sir Vincent Ian Beache has been described as a true patriot and a man who brought a level-headed approach to many issues while serving St Vincent and the Grenadines (SVG).
"I had the privilege of sitting in the Cabinet at one time for a period of five years at which time Sir Vincent was then the Minister of National Security and whenever there were certain issues that are technical, in which there were a diversity of views, you could always rely on the wisdom of Sir Vincent," Chairman of the Unity Labour Party (ULP) Edwin Snagg said on We FM yesterday morning.
Sir Vincent, one of this country's longest serving politicians, died at 3:10 Monday morning at his home at Spring Estate. He passed after a period of illness, one week short of his 88th birthday.
"He always had that practical, knowledgeable approach. I don't think I can find enough words to speak of the contribution of Vincent Beache," Snagg said.
"He was a true Vincentian, a patriot, a man who made such significant contribution," Snagg told listeners while adding that he was privileged to have worked with Sir Vincent.
"For me personally I have lost a friend. I used to call him 'Evergreen' because he approached life in such a manner that he was never actually his age," said Snagg who added that SVG is poorer for the loss of the nation builder, but we are better for having had him.
Sir Vincent is a former Member of Parliament for the North Central Windward and South Windward constituencies. He served as Opposition Leader and was a Minister of Government under both the St Vincent Labour Party administration of Milton Cato and the Unity Labour Party administration of Dr Ralph Gonsalves.
He entered politics in 1972 and retired from active politics prior to the 2005 General Elections, but remained active in public life, serving as a close advisor to Prime Minister Gonsalves and on the boards of several Government owned companies and organizations.
Deputy Prime Minister Sir Louis Straker described Sir Vincent as a great Vincentian.
Sir Louis served with Sir Vincent under the old St Vincent and the Grenadines Labour Party and when Sir Vincent was Leader of the Opposition and also when the ULP formed Government in 2001.
"He is a very humble man, dedicated to his duties. He has served the county tremendously in the area of agriculture and of course as an advisor to the prime minister in matters of national security," said Sir Louis.
He said that his former colleague experienced the agony and ecstasy of politics.
"I said the agony as it was a big experience for him to have lost the North Central Windward seat and of course having led the Labour Party with the biggest motorcade in the history of St Vincent in 1989 and lost all of the seats there under the Labour Party," said Sir Louis who was speaking via telephone from New York.
Sir Louis said he was with Sir Vincent in 1998 when the results of that year's elections came in and the ULP had 55 per cent of the votes but lost the general elections because of the first past the post system.
He said they worked together in Opposition until the ULP formed government in 2001.
Sir Louis said the death of the veteran politician is a great loss to the country as Sir Vincent had a fantastic memory from which his colleagues could always draw.
"He was a resource person to the government. A close advisor to the Prime Minister and the Government and one who was always willing and ready to entertain in his home or elsewhere.
"People like Sir Vincent do not come along very often, and I am very glad I can say of him in death what I would have said of him in life," said an emotional Sir Louis.
The deputy prime minister said Sir Vincent served the constituencies of North Central Windward and South Windward very well.
"He has served the country very well and he would be a great loss to the ULP and the country, a country that he loved very much," stressed Sir Louis.
Sir Louis noted also that in 1998, the election saw them on a unified ticket when the Movement for National Unity (MNU) and the SVG Labour Party teamed up and Sir Vincent led that election, but decided to step down and give Dr Ralph Gonsalves the leadership position.
"That shows the quality and humility of the man. He recognize that he had served his time and he was glad to recognize the talent and contribution that Ralph brought," said Sir Vincent.
Sir Louis added that Sir Vincent was asked to be Governor General but turned down the post as he said he wanted to be able to mix freely with his countrymen and do things like move about and play dominoes and other normal activities. Sir Vincent is survived by his widow Lady Vida Beache, children, grandchildren, siblings, many other relatives and friends.