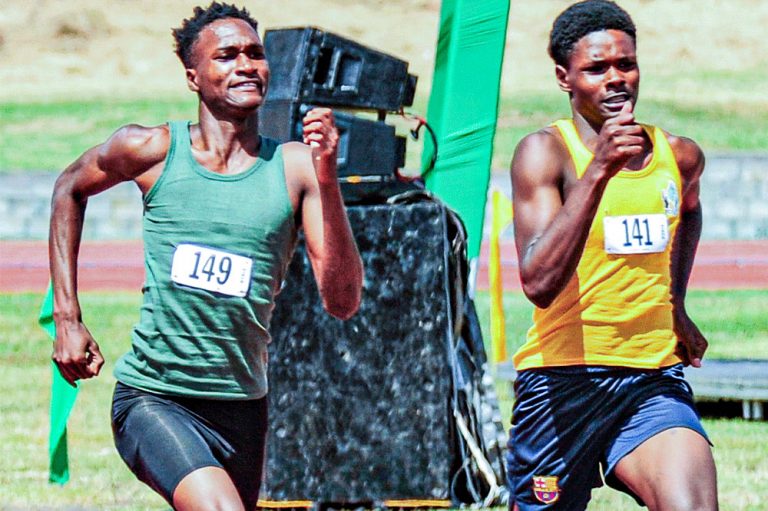 Three new records set as Lopey House retains Grammar School title
Three new records were established at the 2023 St. Vincent Grammar School inter-house athletics meet on Saturday, February 25 at the Sir Vincent Beache Stadium.
Keo Davis ran a blistering time of 21.55 seconds, erasing the longest standing senior record at the St. Vincent Grammar School of 22.20 seconds which was set in 1975 by Christian Anderson, who was present to witness the breaking of the record by Davis.
Another record to fall was by the Millar House junior boys quartet who ran 1 minute 53.37 seconds to break the junior 4×200-metre record of 1 minute 53.82 seconds which was set in 2015 by Crick House.
And a third record was to fall when defending inter-house champions, Lopey House, broke their Intermediate 4×400-metre record with a time of 3 minutes 49.57 seconds, erasing the old time of 3 minutes 51.87 seconds that they set in 2019.
Lopey House retained their title of athletics champions 2023, after they amassed 1,137 points. In second place was Reeves House with 1,082 points; Millar House was third on 1,004 points, and Crick House brought up the rear having amassed 962 points.
The 2023 Junior champion is Evonte Nimblett of Crick House with 43 points; the Intermediate champion is Ethan Isaacs of Lopey House with 49 points; and the Senior champion and Victor Ludorum is Matthew Robinson also of Lopey House with 57 points.
Meanwhile Keo Davis had promised his classmates that he would be targeting the 40 year old senior 200-metre record, and he kept his promise.
Davis also ran a personal best time of 10.71 seconds in the 100 metres, and both his 100-metre and 200-metre times at the school's meet surpassed the 2023 Carifta qualifying standards.
At the 49th staging of the Junior Carifta Games from April 15-18, 2022 in Jamaica, Davis won silver in the Under-17 Boys 200 metres, and bronze in the 100 metres.
RELATED ARTICLE: Victrix and Victor Ludorum of the Troumaca Ontario Secondary School hailed