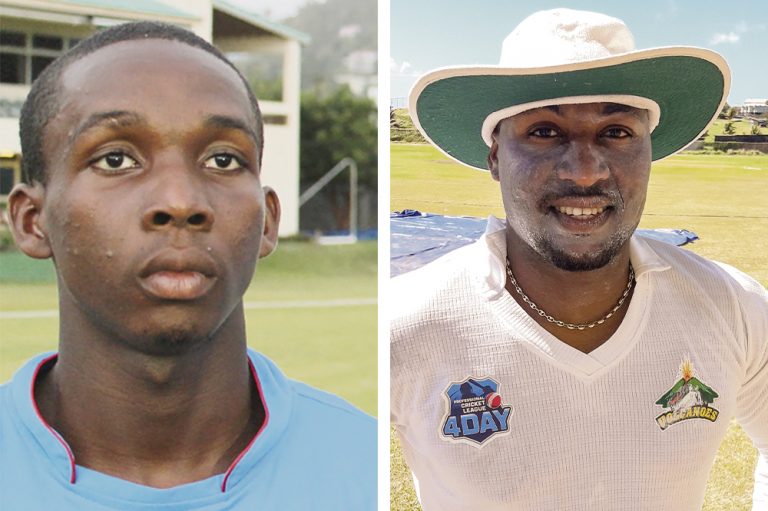 Police Two go two from two in national Cricket
Police Two scored their second outright win on the weekend as matches continued in the Premier Division of the National Cricket Competition.
After demolishing Northern Stars in round one on January 21 and 22, Police Two took on Flow Radcliffe at the Park Hill Playing Field, and came away winners by 15 runs.
Batting first, Shammon Hooper top scored with 55, as Police Two made 117 all out. Richie Richards took 4 for 15 and Asif Hooper, 3 for 45.
Radcliffe made 145 in reply; Richie Richards, 39 and Gidron Pope, 39.
Bowling for Police Two, Nigel Small bagged 5 for 55 and Dillon Douglas 3 for 43.
Batting a second time, Police Two chalked up 168. Hooper, hit his second half century, scoring 52, Salvan Browne contributed 37, and Desron Maloney, 35.
Gidron Pope scalped 5 for 16 and Rasheed Frederick 3 for 31.
Set 141 to win, Radcliffe were dismissed for 125, as Dillon Douglas picked off 5 for 55 and Nigel Small, 4 for 33.
Meanwhile, at the Sion Hill Playing Field, the match up between Guardian General Saints and Flow Rivals ended in a draw. Rivals scored 125. Bowling for Saints, Travis Cumberbatch had 3 for 20, and Jeremy Haywood 2 for 21.
Saints responded with 121. Jaheil Walters top scored with 58.
Lindon James picked up 6 for 31 and Devonte Mc Dowall, 2 for 38, bowling for Rivals.
Lindon James then struck 48, Javid Williams made 39, and Jarrell Edwards, 30.
Bowling for Saints Rayon Williams took 3 for 31 and Jeremy Haywood 3 for 53.
Asked to make 180 for an outright win, Saints were 68 for 2 when the match ended.
And, Victors One and Carlos Veira Rivals also played to a draw at the Arnos Vale One Playing Field.
After winning the toss and deciding to bat, Victors One posted 300 for 9 declared.
Reshawn Lewis hit 80; Atticus Browne 61; Ray Jordan contributed 50 not out; and Newton Browne made 33.
Bowling for Carlos Veira Rivals Olanzo Jackson picked up 4 for 65, and Reynolly Hillocks, 4 for 70.
In response, Carlos Veira Rivals could only manage 65 all out. Rajiv Roberts top scored with 24.
Luke Wilson was the pick of the bowlers for Victors One taking 4 for 30; Kenson Dalzell picked up 3 for 11; and Ray Jordan 2 for 18.
Following on, Rivals were 120 for 7 when the match ended. Hyron Shallow scored 41 and Rajiv Roberts, 40.
Wilson again led the bowling for Victors One taking 3 for 19; Kenson Dalzell had 2 for 13 and Miles Bascombe, 2 for 25.
Another three matches are carded for this weekend. At the Sion Hill Playing Field, Flow Rivals play Carlos James MSDA Julius Anthony Northern Stars; Carlos Veira Rivals meet Police Two at Arnos Vale and Radcliffe take on Saints at Park Hill.
RELATED ARTICLE: Three centuries scored as Premier Division cricket bowls off