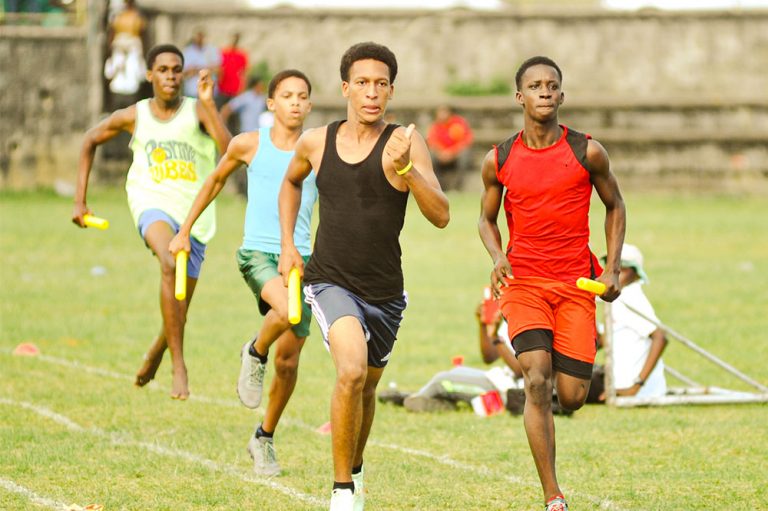 Lopey House takes Grammar School relay and Henry House shines for New Adelphi Secondary
Defending Inter-house champions, Lopey House gave an early indication of their intentions this season when the St. Vincent Grammar School kicked off its 100th Inter-house Athletics Championship with a relay classic on Friday, January 27, 2023, at the Richmond Hill Playing Field.
Lopey House (yellow), declared their intention to defend their title in this centenary year by winning three of the seven relays, amassing a total of 100 points in the process.
Millar House (green), were close behind in second spot with a total of 95 points, while Reeves House (blue), and Crick House (red), scored 85 points and 70 points respectively, for the third and fourth positions.
The next event on the St. Vincent Grammar School's 2023 sporting calendar is the 5000 metres race which will be held on Wednesday, February 1, 2023 at the Richmond Hill Playing Field; and the final event, the Inter-house Athletics Meet, is carded for Saturday, February 25.
Up north at the Adelphi Secondary School's road relay last Friday, January 27, Henry House took the first place position in a time of 17 minutes 22.04 seconds. The victory was set up by Jovanni Jacobs and Quincy Charles who dominated the first two legs of the race.
Mandeville House won silver in 18 minutes 18.23 seconds. Their second spot was due mainly to the heroic efforts of Rodrick Baynes and Alvin Henry on the sixth and final legs of the race.
Bailey House had to settle for the bronze, completing the relay in 18 minutes 47.34 seconds.
The Adelphi Secondary School's Athletics Meet is scheduled for Friday, February, 10, at the athletics track at the Sir Vincent Beach Stadium at Diamond.
RELATED ARTICLE: Green, Blue House take titles in Sandy Bay Secondary School road relay