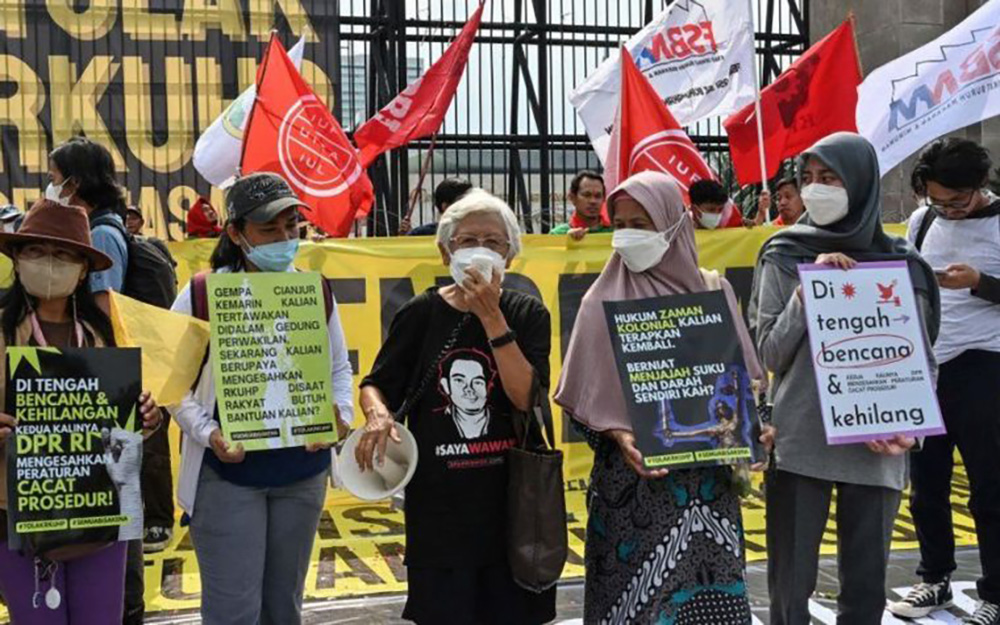 Regional / World
December 6, 2022
WORLD: Indonesia passes criminal code banning sex outside marriage
BBC NEWS – Indonesia's parliament has approved a new criminal code that bans anyone in the country from having extramarital sex and restricts political freedoms.
Sex outside marriage will carry a jail term of up to a year under the new laws, which take effect in three years.
The raft of changes comes after a rise in religious conservatism in the Muslim-majority country.
Critics see the laws as a "disaster" for human rights, and a potential blow to tourism and investment.
Several groups of mainly young people protested against the legislation outside parliament in Jakarta this week. It's expected the new laws will be challenged in court.
They are also banned from living together – an act for which people could be jailed for up to six months. Adultery will also be an offence for which people can be jailed.
Supporters of the legislation say changes were made to accommodate the concerns of critics – for prosecutions to start a complaint must be filed by the children, parents, or spouse of the accused couple.
Ajeng, a 28-year-old Muslim woman living in the West Java city of Depok, said she was now at risk for living with her partner for the past five years.
"With the new law, both of us can go to jail if one of the family decides to make a police report," she told the BBC.
"What if there's one family member who has a problem with me and decides to send me to jail?
"I think living together or having sex outside of marriage is not a crime. In my religion, it's considered a sin. But I don't think the criminal code should be based on a certain religion."
She said she had joined the nationwide protests in 2019 when the law had first been broached. She took the sign: "For the right to cuddle, I took to the streets."
However, on Tuesday, parliament unanimously approved the new code of over 600 articles.
Many businesses had also been opposed to the legislation, saying it discouraged visitors and investment. But lawmakers have celebrated overhauling laws dating back to Dutch colonial rule.
"It is time for us to make a historical decision on the penal code amendment and to leave the colonial criminal code we inherited behind," law minister Yasonna Laoly told parliament.
The new legislation contains scores of new clauses criminalising immorality and blasphemy and restricting political and religious expression.
Indonesia is not a secular state. Atheism is unacceptable – technically you need to follow one of six prescribed religions. So it is a multi-religious state with an official ideology, Pancasila, which prioritises no faith over any other. That was Indonesia's post-independence leader Sukarno's idea, to discourage large parts of the archipelago where Muslims are not a majority from breaking away.
But since the fall of his successor Suharto – who ruthlessly suppressed political Islamic groups – there has been growing mobilisation around Islamic values, the sense that Islam is threatened by outside influences and more conservatism in many areas of the island of Java, where more than half of Indonesians live. Political parties have responded to this and demanded tougher laws to police morals.
Current leader Joko Widodo is from the syncretic Javanese tradition that adheres to a more flexible form of Islam, but his main preoccupation is his legacy of economic development rather than tolerance and liberal values. He has shown, for example in the jailing of former Jakarta governor Ahok on blasphemy charges, that he's willing to give hardline Muslims some of what they want.