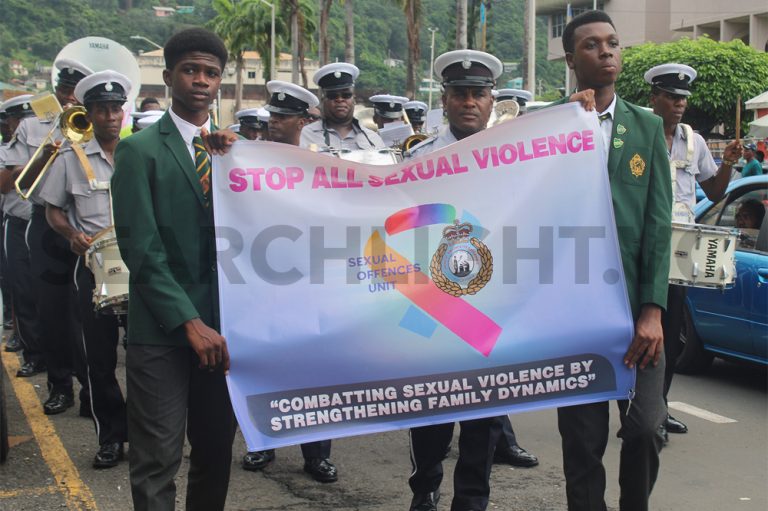 Sexual Offences Unit wraps up week of activities with students march, Rally
The Sexual Offences Unit (SOU) of the Royal St. Vincent and the Grenadines Police Force (RSVGPF) wrapped up a week of activities with a march and rally in Kingstown last Friday, November 11 attended by primary and secondary school students and led by the police force band.
Head of the Public Relations and Complaints Department, Assistant Superintendent, Junior Simmons said the theme "Combatting Sexual Violence by Strengthening Family Dynamics" is fitting as there needs to be involvement if progress is to be made in addressing sexual violence.
"It takes the family, the community, the churches, civil society, every sector in this country to effectively combat the scourge of sexual violence. We are happy and grateful that so many of you chose to partner with us as we seek to sensitize our nation on this very vexing issue," Simmons said.
The Unit's week of activities focussed on educating stakeholders on sexual violence.
The Unit, now in its fourth year of existence, is dedicated to investigating sexual crimes such as rape and unlawful sexual intercourse with minors.
During a workshop earlier in the week held at the Calliaqua Town Hall, participants were informed about the court procedures for the prosecution of sexual offences, from investigation up to sentencing. Workshop facilitator, Rose-Ann Richardson explained that there are many factors that go into determining if a person is convicted of sexual offences.
"They can be given a sentence of imprisonment or they may not. They can be given a suspended sentence that a lot of people do not like. There are various factors that go into sentencing, it depends on your age, on your background, previous convictions- all those things the Magistrate has to take into consideration," she explained.
The SOU also held a radio discussion to inform the public on the steps to take if they are sexually assaulted.
Investigating Officer with the Unit, Corporal Elroy Quammie stressed the importance of physical evidence in order to build a strong case. He advised persons not to take any action to compromise physical evidence and to immediately report the matter to the police.
"We know the importance of physical and DNA evidence and taking a shower, which is one of the first things that victims usually do. "[It's] one of the biggest mistakes because there are physical examinations that are conducted and they look for DNA evidence that can help to strengthen the case and in turn capture the perpetrator and put them behind bars."
RELATED ARTICLE: Sexual Offences Unit makes 90 arrests in its first year of operation