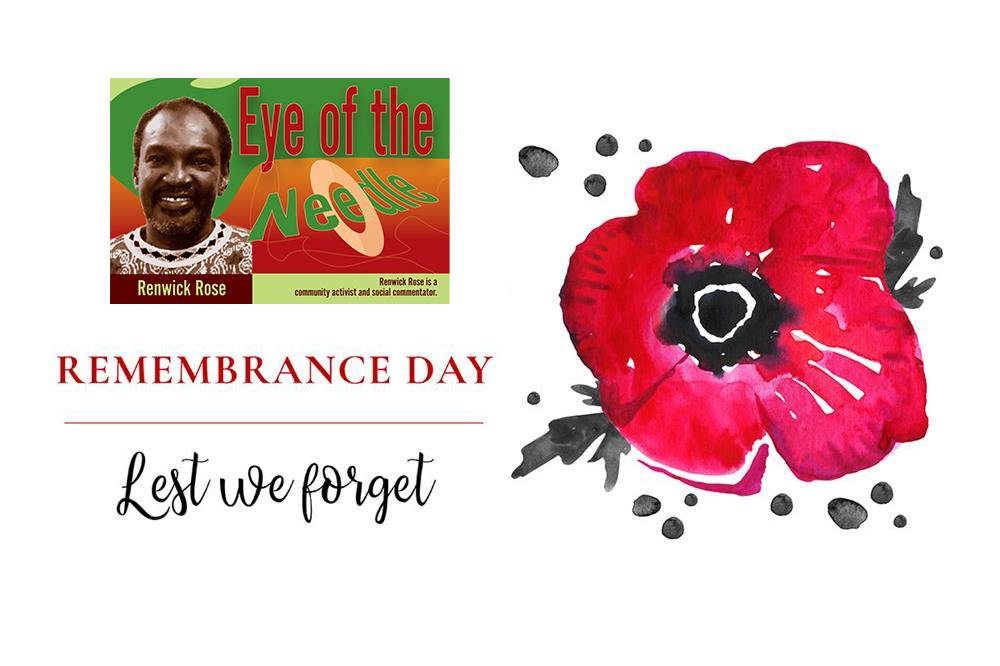 R. Rose - Eye of the Needle
November 25, 2022
Remember November
Every November, there are official ceremonies on what is called "Remembrance Day" in honour of those who died during the two world wars.
The emphasis is on those who fought and died but we must always find time to remember the tens of millions who suffered and died as a result of fights not of their choosing and in which they did not participate.
We should also broaden our perspective to include the hundreds of millions of those, especially in the colonies of the warring nations – in the British Empire, in French colonies in Africa, the Caribbean and Polynesia, who suffered and died as a result. Many of the sons of these countries were virtually conscripted to go to the front lines in defence of the interests of their colonizers, but not permitted to fight on the same level as their white counterparts. Indeed, there is evidence that during the first world war, many Africans were used mainly as human shields, cannon fodder, to protect the French troops.
Sport was also a big casualty of the two world wars.
Three scheduled Olympic Games, those of 1916, 1940 and 1944 were not held and the wars prevented the holding of Football World Cups which would have been held in 1942 and 1946.
In addition, countless other sporting exchanges could not occur and there was massive damage to sporting facilities and infrastructure. All these are besides the overall destruction of physical infrastructure, the disruption of world trade etc. That is what war means.
The one saving grace is that the war seriously weakened the colonial powers, enabling the demands for independence from the colonies. Try as they might, the colonialists could not resist the demands for an end to the colonial yoke, not when they had to depend on the peoples of these very colonies to fight on their side in their dire hours of need.
India and Pakistan led the way in 1947, but by the sixties a whole swathe of countries had raised their own flags of independence.
Even in the Caribbean, Britain was forced to respond to demands for Caribbean unity and nationhood with a wishy-washy, ill-fated Federation in 1958 which lasted all of four years.
National independence for Jamaica and Trinidad and Tobago followed in 1962 and the rest is now history. Only the stubborn French insist on holding on to colonies in Martinique, Guadeloupe and cayenne, but surely, their day will come too.
REMEMBERING OUR HEROES
With the mention of the struggle for independence, self-determination and Caribbean nationhood, we must remember that this same month of November marks the physical departure of one of our anti-colonial heroes, George Augustus "Daddy Mac" McIntosh. He passed away of November 6, 1963. Next year will mark the Diamond Jubilee of his passing and early notice is hereby given to the government to organize appropriate activities for the occasion. After all, we cannot nominate someone for designation as National Hero and let occasions such as dates of birth and death, pass in silence and obscurity.
ANTIGUA'S TIM HECTOR
The mantle of national liberation borne so bravely by the generation of McIntosh and his Caribbean colleagues of his era, was taken up in the 50s and 60s by a new generation throughout the region.
Recognized by their promotion of black consciousness in addition to the anti-colonial campaigns, this generation came to be known under the "Black Power" banner.
Foremost among this new generation was Antigua's Tim Hector, undoubtedly the most outstanding Antiguan anti-colonialist and Pan Africanist fighter. As November would have it, Tim, who fought a heroic battle against the excesses of the Bird regime, and especially stood up for press freedom and human rights in his country, was born on November 24,1942 and died on November 12; twenty years ago. Today, let us not only remember his phenomenal contribution, but also pay homage to him.
AND…. FIDEL
I conclude these tributes by remembering another hero who departed in November as well. This one, not just well-known as a Caribbean liberator, but more so a giant on the global stage. He is none other than Fidel
Castro Ruz, leader of the Cuban Revolution who ranks in the entire history of this hemisphere alongside his Cuban compatriot, Jose Marti and Simon Bolivar, liberator of Venezuela, Colombia and Bolivia, as the most outstanding figures that Latin America has produced.
In fact, so significant was his contribution that Fidel is considered in many quarters as the most outstanding leader of the entire 20 th century. Fidel passed away on November 25, 2016.
Let us honour him on the occasion!
It is a pity that Vincentians never got the honour and pleasure to welcome Fidel to our shores, but at least next month, we will have the honour of hosting the current Cuban president, Miguel Diaz-Canel. Let us all give him a welcome that reflects our profound gratitude to the Cuban people, their internationalist workers here, the support and solidarity of the Cuban government over the years, and the bonds of friendship between our two peoples.
l Renwick Rose is a community activist and social commentator.