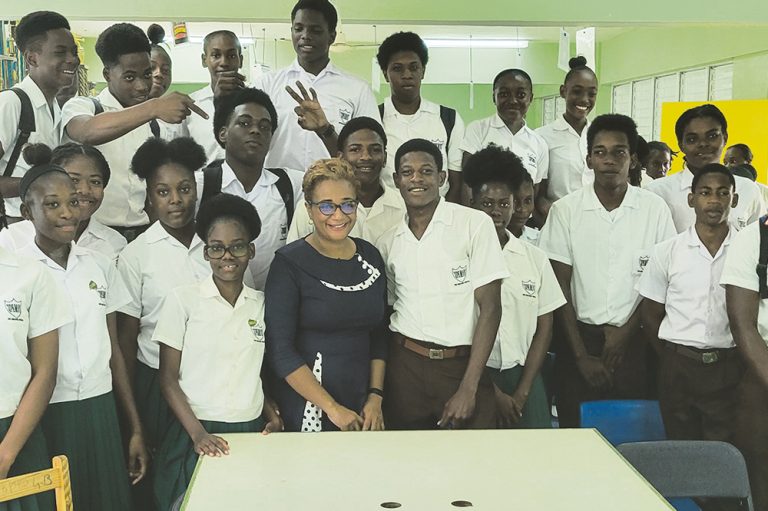 Press Release
February 21, 2023
House Speaker conducts Secondary Schools outreach programme
THE SPEAKER of the House of Assembly, Rochelle Forde, is conducting a Schools Outreach Programme to improve awareness about the different arms of government, their functions, and the responsibilities of the Parliament of St.Vincent and the Grenadines (SVG).
On February 16, a team from the House of Assembly visited the rural George Stephens Secondary School in Colonaire, and the Adelphi Secondary School located between Biabou and New Prospect.
Speaker Forde who spoke with third form and fourth form students of each school said the outreach programme is an opportunity to introduce members of the House of Assembly to the nation's students, while improving awareness about the constituent parts of Parliament, and to clarify the proceedings of Parliament.
Forde said she is optimistic that the Schools Outreach Programme will ignite an interest in students who may choose a related career path, adding that if the Parliament is to be effective in its intention, then it must reach the people.
On February 8, the team visited the Bequia Community High School and the Bequia Seventh Day Adventist Secondary School; while on February 10, they visited the Central Leeward Secondary and the Dr. JP Eustace Memorial Secondary School. (API)
RELATED ARTICLE: Tempers flared in Parliament between Member of Parliament for Central Kingstown, St Clair Leacock and Prime Minister, Dr Ralph Gonsalves.