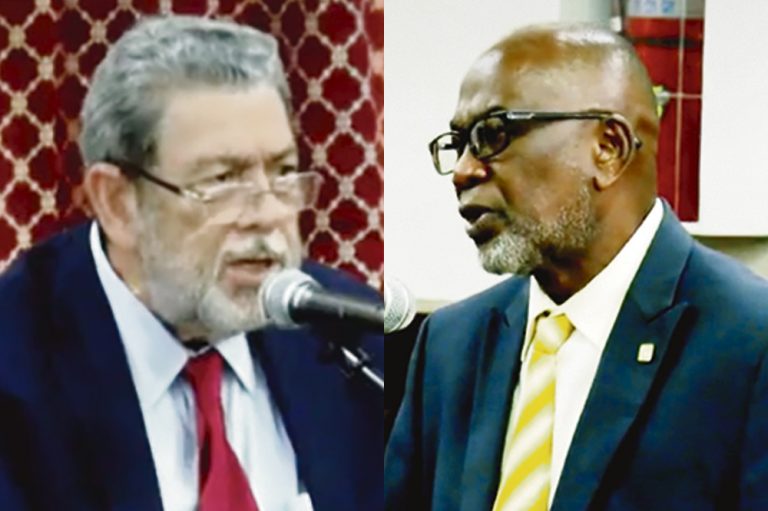 Front Page
January 13, 2023
PM Gonsalves, Leacock clash in House of Assembly
Tempers flared in Parliament on Wednesday, January 11 between Member of Parliament for Central Kingstown, St Clair Leacock and Prime Minister, Dr Ralph Gonsalves.
It came when Leacock interjected during the contribution to the Budget debate by Minister of Health, St Clair Prince.
When Gonsalves intervened, he was met with a verbal, non-Parliamentary response from Leacock, which was thrown back at the Central Kingstown MP.
"You are not a bully," Gonsalves then said to Leacock in the midst of the heated interchange.
Apart from telling Leacock that he is not a bully, Gonsalves added, "I wouldn't allow you to come here and bully anybody in this House, certainly not me."
The Member of Parliament for Marriaqua, was at the point of speaking about improvements in diagnostic services, when Leacock interjected, seeking to ask about a subsidy for a private health services provider here.
At this time, Prime Minister Gonsalves also began speaking, and this resulted in the exchange of robust language between the two parliamentarians.
Speaker of the House of Assembly, Rochelle Forde made numerous attempts to quell the melee, but tempers continued to flare.
Addressing the matter immediately after the outburst, the Speaker stated: " Honourable members, there are rules in this House.
"We have been going very well over the last few days."
The 2023 Budget was presented on Monday evening, and the debate started on Tuesday morning, with the presentation by Opposition Leader, Dr Godwin Friday.
The Speaker further commented that the 2023 Budget, "has been one of the more amicable and well debated Budgets."
"I will not allow this to degenerate into anything less than what is expected of parliamentary debates, it will not happen!"
The Speaker then took the opportunity to remind members of the rules of the House, relating to interrupting a debate.
After the outburst, the Speaker also reminded members concerning the use of certain language in Parliament.
"The language has to be parliamentary, and I will not tolerate anything less than that."
She reminded members that Parliament is the highest body decision making body.
"Let us set the right example."
She also advised that alternative channels could be used for Leacock to put his question to the Minister of Health.
RELATED ARTICLE: The 2023 Appropriation Bill was passed in the House of Assembly  with Opposition members absent from the sitting.