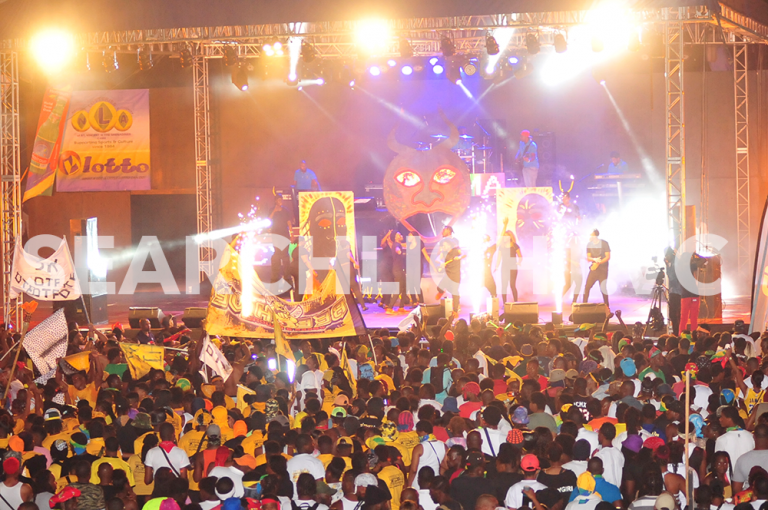 Finalists announced for Ragga, Power soca competition
The Carnival Development Corporation (CDC) has announced the finalists of the Ragga and Power soca competition following the judging of the preliminaries on Monday, June 26.
Ragga Soca Category
1. Hance John – Bruk out
2. Javid Jay-R' Rouse – Love of Carnival
3. Omarion Marlo Benn' Benn – Jam Again
4. Ozarie Matthews – Pastor Choking the Bishop
5. Nasir Nasos' Primus – Dirty Mas
6. Ramon 'Jose Juan' Diaz – Until ah wet
7. Jasper Jasper YMC' Alexander – Festival
8. Denis Bowman – Tink Butt easy
9. Gregory Pekos' Cato – Poor Keyboard
10. Shaunelle McKenzie -Doh Study Meh
11. McGaffrey *Loombay' Medford, Jesse Fligh' Haynes & Brendon Saunders – Wasted
12.Rayvonne Reva' Rodney – Zess No Stress
Power Soca category 
1. Kemmy Christopher – Spirit of Carival
2. Keneil 'Dose up' Alexander – Butt
3. Omarion ' Marlo Benn' Benn – Horn me
4. Shom 'Shorn Beats' Nimblet, Kelvin 'Double R' Wilson & Enriq
Marshall – Good Energy
S. Kahm 'Fligh' Haynes – Farmer
6. Keith Currency – Rum over people
7. Zimbory 'Ghaza' Joseph – Carnival
8. Kertis Gully' Marshall – Why de cat in the rain
9. Javid Jay-R' Rouse – Wild
10. Esron 'Esron Spielbery – Headways
11.Samantha Bryant & Nadine Bryant (Sun Divas)- Sick wuk
12.Alpha 'Stinger Nettle' Allick – Bring yo catt in the road
13.Ishatta 'Shatta` Da Silva -Long fi see town
14.Kelvin 'Killy' Wilson -In Dey
The Ragga Soca competition will be staged on Friday, July 7 and the Power soca competition on Saturday July 8.
RELATED ARTICLE: Soca Monarch show will go on despite artistes boycott – CDC