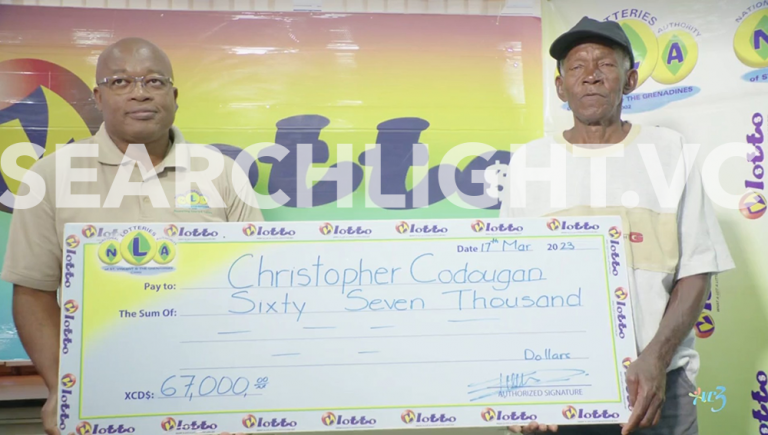 Barrouallie man wins Lotto Jackpot of $67, 000
Barrouallie resident Christopher Codougan is the island's latest Lotto Jackpot Winner and has credited his $67, 000 win to determination and resilience.
Speaking to the media at the cheque presentation on Friday, March 17, Cadougan shared that some naysayers who criticize his constant playing of the game but he said he refused to listen to them.
"Some people used to try to discourage me and say I'm wasting time but I say I'm not quitting…if you quit you lose, but as life goes on, you still have a chance."
Codougan, whose steadfast mentality has finally paid off, said that the money will be used to "fix up my home and extend it".
The winning numbers were a quickpick as he added that he has found more luck with that, than writing his own numbers.
"It's a long time I stop writing numbers because after a while I said I'm just wasting time, so I say it's better if I just do some quickpick. It's a long time, it's over 20 years I'm playing quick pick."
The Jackpot was drawn on Tuesday, February 28 and the winning numbers were: 1, 13, 21, 30, 31.
Cadougan received his cheque at the National Lotteries headquarters.
RELATED ARTICLE: Layou plumber wins $260,000 Super 6 jackpot