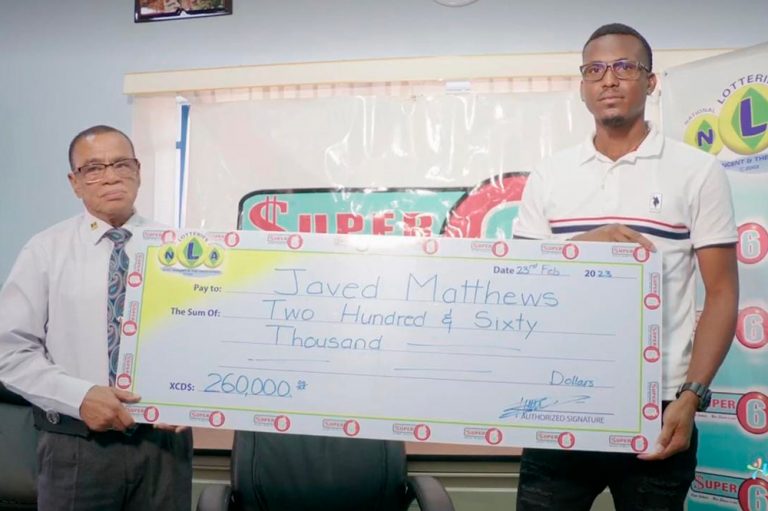 Layou plumber wins $260,000 Super 6 jackpot
The latest Super 6 winner, Javed Matthews of Layou, cried for joy after winning the $260,000 jackpot.
The 29 year old said he leaped in excitement when he received the news that he had won the jackpot in the draw which took place on Friday, February 17.
Matthews, who works as a plumber at the Central Water and Sewage Authority said he intends to use the money to get a house for his mother and daughter.
"I used to always say when I was younger…before I [turn] 30, I want a house for myself. November 19, I'm going to be 30 years old so this a blessing for me from God, and I am going to take it and put it to good use. My main focus right now is to get a house over my daughter's head and my mom's head."
Matthews said that up to the point of purchasing the winning ticket, obtaining a house was on the forefront of his mind.
"The day when I buy this ticket, before I leave home I asked my mom if she is going up the road to buy tickets. She tell me no, her head is hurting her; so I told her well mom, I'm going to see if I could win a money to buy a house because the money that I'm working for right now, it go can't make it right now. I jumped on my nephew's bike, go by the Lotto booth to buy [it]."
The Layou resident said afterwards he left to go to work on the evening shift. He received a call from his mother who told him to check his ticket because the salesperson at the Lotto booth in Layou said someone from that town had won the Super 6 jackpot.
"…[I was] so excited, it's like my belly feel full and I didn't eat. I was filled with so much joy although I didn't know exactly it's me [who] win but I just got a hope, a feeling it's me [who] win".
However, it was not until he got home from work and checked the ticket that he was able to confirm he was indeed the winner.
"I jump so high, I almost butt up my head on the roof, but all I can do is cry. I cry, I cry, I cry for so much joy because I know this money is going to be a foundation for a new beginning for me and my family."
The winning numbers, 13, 16, 18, 19, 21 and 22 were one of two quick picks which Matthews purchased in Layou.
He is said to be the 14th jackpot Super 6 winner from St Vincent and the Grenadines since the game started in 2004.
Matthews received his winning cheque at a media presentation on Thursday, February, 23 at the t headquarters.