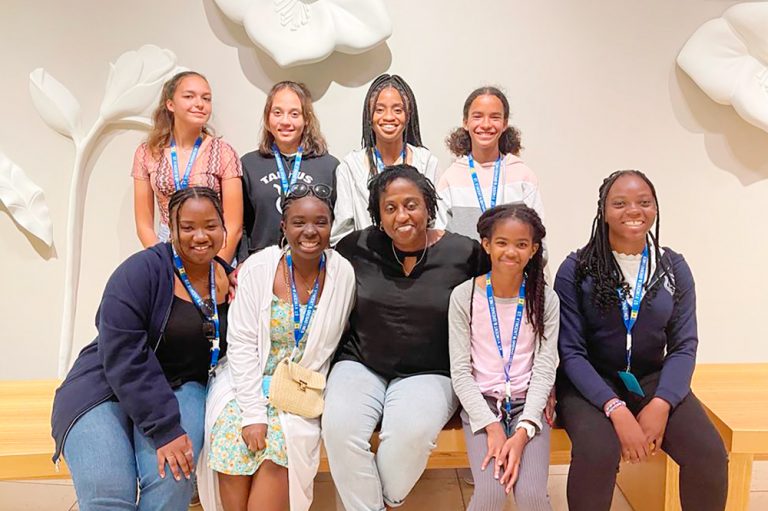 Girls High School STEM study tour to US into fourth day
Eight students of the St Vincent Girls' High School (GHS) are now into the fourth day of a one-week STEM study tour at the Good Shepherd Episcopal School in Dallas, Texas.
While in Texas, the students and teachers are exploring, collaborating and sharing around STEM (Science, Technology, Engineering and Mathematics) education.
On Sunday, the GHS team visited the Perot Museum of Nature and Science and met with Vincentian, Dr Gloria Regisford, a STEM professor at Prairie View A & M University.
On Monday, the group was welcomed to the Good Shepherd Episcopal School campus, then in the afternoon visited the IBM Innovation Studios in Dallas. Other activities planned for the week include visits to other STEM related projects, sites and museums.
Mia Bailey, Sarah Foster, Kuba Francis, Annaliese Mapp, Ennabelle McMaster, Kyrah Sargeant, Ginniek Shallow and Osanna Sprott, accompanied by Lenski Adams (head of the Natural Sciences Department), Ronnise Henry (head of the Mathematics Department), Georgina John (head of the IT Department), Vynnette Frederick (group manager and a past student) and Roxanne Foster (parent/chaperone) left St Vincent on Saturday, March 4.
A release from the organisers said the intention is for the eight students, who are from the first, second and fourth forms, to pioneer the establishment of a STEM Club at the school. There are also plans to create a GHS SparQ Lab at the school's Richmond Hill base, which is currently under renovation.
The study tour was made possible through the work of Vynnette Frederick and Texan, Dave Copps in collaboration with the educators connected to the SparQ Lab at the Good Shepherd Episcopal School (GSES).
The Good Shepherd Episcopal School is a private school which serves the pre-kindergarten through eighth grade student population.
Sponsorship for seven members of the 13-member team was secured by Copps along with the Good Shepherd Episcopal school, with other alumni and corporate sponsorship securing the attendance of the additional six participants. Parent/chaperone Roxanne Foster is accompanying the group at her own expense.
The sponsorship covers the cost of airfare, accommodation, transportation and food.